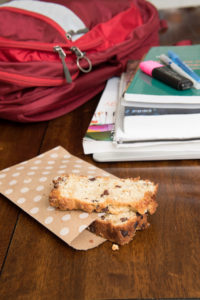 4½ c. all purpose flour
1 tbsp. baking powder
1 tsp. kosher salt
1 c. room temperature butter
1¾ c. white sugar
4 large eggs
1 tsp. vanilla extract
1 tsp. vanilla paste
1 c. sprinkles + 1tbsp.
for the top
Preheat the oven to 325°F.  Line two baking sheets with parchment paper and set aside.
In a medium bowl, whisk together the flour, baking powder, and salt. Using a hand beater or a stand mixer cream together the sugar and butter until light and fluffy.
Add in the eggs, vanilla extract and vanilla paste and mix well. Slowly add in the dry ingredients on a low speed until just combined.
Stir in the sprinkles by hand.
Divide the dough into two pieces. On the parchment lined sheet, form each portion of the dough into a log. Bake in the oven for 30-40 minutes, rotating the sheets halfway through the bake time, until golden and the top springs back when touched.
Lower the oven temperature to 300°F.
Let the logs cool on the baking sheet for 15-20 minutes.  Carefully transfer, one log at a time, to a cutting board. Slice into half-inch slices and place back on the baking sheet cut side up. Do the same with the second log.
Bake each sheet for 15 minutes, flip the biscotti
over and bake on the other side for 15 minutes
until golden.
Let the biscotti cool and package away carefully!
The biscotti will keep for a few weeks in an airtight storage container or pop into the freezer for up to six months.
A delicious mocha coffee dipper or an in between meal nosh and hey, who doesn't smile when they see sprinkles!