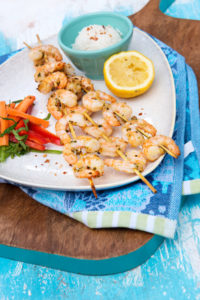 Grilled shrimp is a great alternative to friends and family who prefer seafood over chicken and beef. The bright, citrus hit of the lemon juice combined with shredded coconut make a great cocktail snack or a meal. Just add rice and some slivered snow peas and the party is on!
1 tsp. red pepper flakes
1 lemon, zested and juiced
1 tbsp. chopped fresh cilantro
1 tbsp. chopped fresh mint
⅓ shredded coconut
¼ c. olive oil
¼ c. soy sauce
1 lb. uncooked medium shrimp, peeled and deveined
skewers
Combine the red pepper flakes, lemon zest and juice, cilantro, mint, olive oil and soy sauce in a food processor. Combine until the mixture is smooth. In a large bowl, toss together the shrimp and the marinade. Cover and set aside for 2-3 hours.
Preheat the grill to a medium-high heat. Thread the shrimp onto the individual skewers. Cook the skewers until they are browned on both sides and the meat is cooked. This takes approximately 4-6 minutes per side. Serve hot off the grill or alongside rice and slivered snow peas!