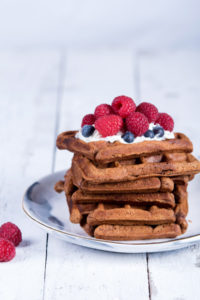 Leftover waffles are ideal for freezing and popping in the toaster on rushed mornings. The secret ingredients in this pumpkin version? Eggnog and coffee!
1 1/2 cups all-purpose flour
2 tbsp cocoa powder
1 1/2 tsp instant coffee powder
1 tbsp baking powder
1/2 tsp baking soda
1 tsp cinnamon
1 tsp pumpkin-pie spice
1/2 tsp allspice
1/2 tsp salt
1/4 cup coconut oil, melted
1/2 cup granulated sugar
1/4 cup brown sugar, packed
2 eggs
1/2 cup pumpkin purée
1 cup eggnog
1 1/2 tsp vanilla extract
Whipped cream and berries, to garnish
In a medium bowl, combine the flour, cocoa, instant coffee powder, baking powder, baking soda, cinnamon, pumpkin-pie spice, allspice and salt. In a second bowl, whisk together the coconut oil, sugars, eggs, pumpkin, eggnog and vanilla. When the wet ingredients are combined, add the dry ingredients, and mix well.
Next, grease and preheat your waffle iron according to its directions. Then pour 1/4 cup of batter into each mould. Close the lid, and let the waffles cook for 6 minutes (peek for doneness after 5 minutes). Serve with whipped cream and berries.