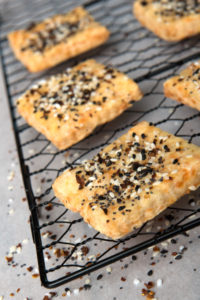 Move over, bagels. You've got delicious competition.
3/4 cup grated pepper-jack cheese
1/2 cup grated sharp cheddar cheese
1 1/2 cups all-purpose flour
1/2 cup butter, cut into small cubes
1/2 tsp onion powder
1/4 tsp smoked, hot paprika
4 tbsp 2% milk
1 egg (for egg wash)
2 tsp water (for egg wash)
For the "everything" topping
1 tbsp poppy seeds
1 tbsp toasted sesame seeds
1 tbsp dried onion flakes
1 tbsp dried garlic flakes
1 tsp freshly cracked black pepper
1 tsp sea salt
Preheat your oven to 350˚F, and line a large baking sheet with parchment paper.
In a large bowl, combine the grated cheese, flour, butter, onion powder and smoked paprika. Mix with your fingertips until the mixture resembles a crumb topping. Drizzle in the milk, and use a fork to toss the mixture until combined (it will still be crumbly).
Divide the mixture into 2 mounds, and roll out each to 1/4-inch thickness on a floured work surface (it will become easier to roll as it warms). Cut into crackers with a 1 1/2 inch cookie cutter, and space the crackers 1 inch apart on the prepared baking sheet.
Whisk the egg and water together in a small bowl. Brush the top of each cracker with the egg wash, and sprinkle with the topping mixture. Bake in the preheated oven for 18 minutes, and then remove the crackers to a rack to cool. Serve as a snack or alongside your favourite soup or dip.