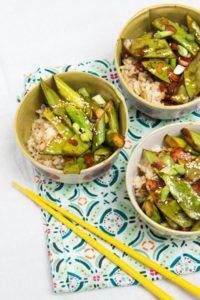 This quick and easy stir-fry delivers on flavour and has so many crunchy vegetables that when paired with rice is texturally satisfying. Feel free to swap out different veggies for what you have on hand.
½ tbsp. sesame oil
1 tbsp. of fresh ginger, grated or finely chopped
1 tbsp. hoisin sauce
½ tbsp. rice vinegar
⅛ tsp. dried chili flakes
1 tbsp. soy sauce
1 bunch of asparagus, heads removed and stems cut into 3 pieces
½ c. snow peas, ends removed
½ c. very thinly sliced carrot medallions, mandolin works best
½ c. cashews, toasted and coarsely chopped
1 tbsp. sesame seeds, toasted
1 tbsp. cilantro, chopped
Heat a large frying pan over medium to slightly over medium heat, add in the sesame oil and heat until shimmery.
While the oil is heating, in a small bowl whisk together the hoisin, rice vinegar, chili flakes and soy sauce. Next add in the ginger and stir for a minute. Add in the asparagus, carrots and snow peas and stir for 2-4 minutes. Stir in the hoisin mixture and continue cooking for another 3 minutes.
Serve warm with brown rice, chopped cashews, sesame seeds and fresh cilantro.