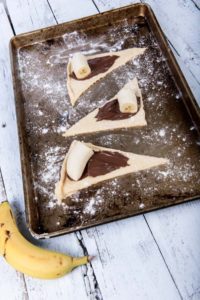 Store-bought crescent-roll dough is key to many a delicious thing. These Nutella-banana roll-ups are no exception.
1/2 cup granulated sugar
1 1/2 tsp cinnamon
1 can crescent-roll dough (8 crescents)
8 tbsp Nutella
2 bananas, each peeled and cut into 4 segments
Preheat your oven to 375˚F, and line a baking sheet with parchment paper.
Combine the sugar and cinnamon, and sprinkle it onto a work surface to create a 10-by-8-inch sugary rectangle. Open the crescent-roll dough, unroll it and place it atop the cinnamon sugar. Gently press the dough into the sugar, cut the dough into 8 crescents (follow the pre-scored lines) and place on the prepared baking sheet.
Spread Nutella on each crescent, then place a banana segment at the wide end and gently roll up each crescent (rolling toward the pointy end). Space out the rolls evenly, and bake in the preheated oven for 10 to 12 minutes. Serve while warm and gooey.