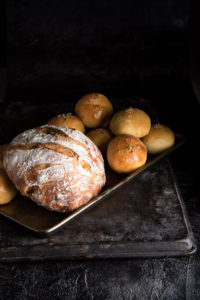 If you've been dreaming of Mediterranean waters but have settled for wine on the deck, add a slice of this bread to the menu. Delicious.
3 cups unbleached flour
2 tsp salt
1/4 tsp quick-rise yeast
1 1/2 tbsp freshly chopped rosemary
1 1/2 cups cool water
1 1/2 cups Kalamata olives, pitted and roughly chopped
Place the flour, salt, yeast and rosemary in a large bowl, and mix them together. Add the water, and stir with a wooden spoon until the mixture forms a messy, shaggy dough. Mix in the Kalamata olives until incorporated (switch from the wooden spoon to your hands if that's easier), cover the bowl with plastic wrap and place in a draft-free place to rise for 14 to 24 hours.
Punch down the risen dough, form it into a ball and place it on a generously floured dinner plate. Thoroughly dust the top with more flour, and loosely cover the dough with waxed paper. Let rise for 2 hours.
Place a large cast-iron pot (with a lid) in the oven, and heat to 450˚F. Remove the heated pot from the oven, and gently centre the risen dough inside (bottom side of the dough facing up). Cover the pot with the lid, and place it back in the oven for 30 minutes. Remove the lid, lower the temperature to 425˚F and bake for another 15 minutes. Place the baked boule on a rack
to cool.