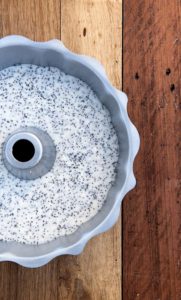 Almond extract gives this cake its signature taste and aroma. A classic through and through.
3 cups all-purpose flour
1 tbsp baking powder
1 tsp salt
2 cups sugar
1 cup unsalted butter, softened
1/2 cup coconut oil, room temperature
4 large eggs
1/2 cup sour cream
1/2 cup milk
1/2 cup freshly squeezed lemon juice
Zest of 1 lemon
2 tsp lemon extract
1/2 tsp almond extract
3 tbsp poppy seeds
Preheat your oven to 350˚F, and generously grease and flour a 12-cup Bundt pan.
In a medium bowl, whisk together the flour, baking powder and salt, and set it aside. In a large mixing bowl, beat the sugar, butter and coconut oil with an electric mixer on medium speed until fluffy. Next, add the eggs one at a time, mixing well with each addition.
With the mixer on low speed, add half the flour mixture, followed by all the sour cream, milk, lemon juice, lemon zest, lemon extract, almond extract and poppy seeds. Add the remaining flour, and beat until smooth.
Carefully pour the batter into the prepared Bundt pan, and place it in the preheated oven. Bake for 50 minutes or until a toothpick inserted in the centre comes out clean. Cool in the pan for 5 minutes, then invert the cake onto a cooling rack, set upright and let cool.