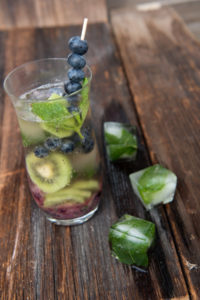 Looking for a new take on a classic rum mojito? It's kiwis to the rescue.
2 1/2 oz rum
1 oz freshly squeezed lime juice
1 tsp white sugar
12 mint leaves, torn into pieces
2 kiwis, peeled and quartered
1/3 cup blueberries
1 tbsp honey
Club soda, to taste
4 kiwi slices (to garnish)
2 tbsp blueberries (to garnish)
Place the quartered kiwis, blueberries, mint and white sugar in a cocktail shaker, and muddle them until pulverized. Then, place 2 tablespoons of the mixture in the bottom of a tall glass, followed by ice cubes, kiwi slices and blueberries.
Next, fill a cocktail shaker half-full of ice, and add the rum, lime
juice and honey. Secure the lid, and shake until chilled. Strain the mixture into the prepared glass, and top with club soda to taste.
Stir and enjoy