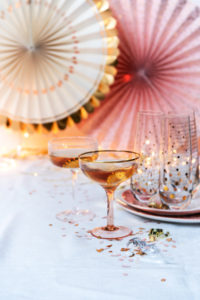 Greet your guests with a house cocktail once they step through the front door. They will appreciate sipping on this not too sweet beverage while they make themselves at home and start to peruse all the yummy appetizers that await!
2 oz. gin, preferably a more aromatic, floral gin
1 oz. peach schnapps
5 oz. peach nectar
a splash of cherry syrup
Combine all ingredients in a cocktail shaker with ice. Give it a shake and pour into your favourite cocktail glass. Garnish with lemon peel for a fancy finish!