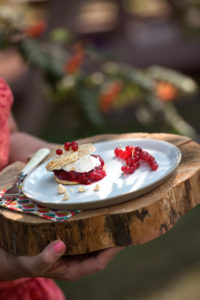 Enjoy these autumn flavours with Red Currant Compote  and whipped cream. Also delicious with butter and seasonal jam.
1-½ cups flour
¾ cup hazelnut meal
¼ cup granulated sugar
1 Tbsp baking powder
½ tsp salt
½ tsp ground ginger
3 Tbsp crystallized ginger, chopped
¼ cup hazelnuts, chopped
½ cup butter, chilled
1 cup milk (full-fat is best)
1 Tbsp coarse sugar (for sprinkling)
Preheat oven to 425°F.
Whisk together the flour, hazelnut meal, sugar, baking powder, salt, ground ginger, crystallized ginger, and chopped hazelnuts.
Cut in the butter until coarse crumbs form.  (A good trick is to toss the butter into the freezer for 30 minutes beforehand, and then grate into the flour mixture.)
Pour ¾ cup of milk over the dry ingredients and, using your hands, knead gently until a soft, slightly sticky and ragged dough forms.
Turn out the dough onto a floured surface. Knead gently 10 times. Roll out the dough into an 8 x 6-inch rectangle.
Cut into triangles, squares, or use a round biscuit cutter. Place onto baking sheets lined with parchment paper. Brush the tops with the remaining milk, and sprinkle with coarse sugar. Bake until golden, approximately 15–18 minutes.