These marshmallowy-on-the-inside meringues are made following the common meringue method where the egg whites are whipped to stiff peaks. Dark chocolate is folded in and they are baked so they are still soft in the middle.
5 eggs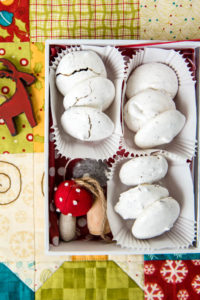 1¾ c. icing sugar
½ tsp. cream of tartar
pinch of kosher salt
1 ½ tsp. vanilla extract or vanilla bean paste
½ c. finely chopped dark chocolate (70% cacao works well)
Line two baking sheets with parchment paper and set aside. Preheat oven to 200ºF.
In a bowl, whisk together the icing sugar, cream of tartar and salt, set aside.
In another clean, dry bowl, separate the egg yolk from the egg whites. Any fat from the egg yolk that makes its way into the egg whites will hinder the egg whites from whipping up, so take your time!
In the bowl of a stand mixer (This can also be done with electric hand mixers-just be prepared for a good arm workout!) pour in the egg whites. Turn the mixer on medium and watch for even, small bubbles to form throughout the mixture. This usually happens within four to five minutes of mixing.
Slowly sprinkle in the dry mixture and the vanilla. Then increase the mixer speed to medium-high. Whip this mixture until the meringue is glossy and when the whisk is lifted, the peak in the meringue holds (stiff peak). This usually takes around five to six minutes. Feel free to stop and check to see where the meringue is at.
Remove bowl from stand mixer. For this recipe, either a tablespoon or a piping bag can be used to form meringues on the cookie sheets. So pipe or scoop a heaping tablespoon of meringue onto the cookie sheet and give each meringue a swirl finish on the top!
Baking sheets go into the oven for 20-25 minutes. Rotate the baking sheets at this point for even baking. The remainder of the bake time is another 25-30 minutes. Meringues are done when they are easily lifted off the parchment.
Remove the meringues from the cookie sheets and completely cool on a wire rack.
These meringues will keep for up to a week in an airtight container in a single layer.