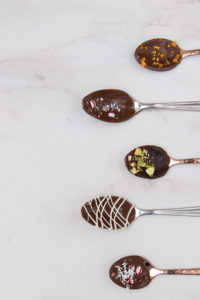 This simple idea will turn a hot beverage into an indulgence. Perfect for making with kids.
1 cup chocolate chips
1 tsp butter
Crushed pistachios, candy canes or any goody you like
Place the chocolate and butter in a coffee cup, and melt the mixture in the microwave. Next, dip a spoon in the melted chocolate, tap off the excess and sprinkle with nuts or candy.
Place the spoon on a piece of waxed paper to set, and repeat.