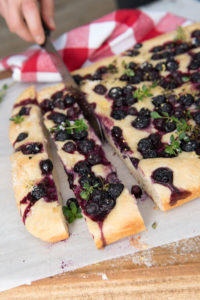 Few things taste as good as they smell baking. This is one of those unicorns. Sweet and savoury with a delicate essence of lemon and thyme.
2 pkgs active dry yeast (4 1/2 tsp)
2 1/4 cups warm water
5 cups all-purpose flour
2 tsp salt
1 tbsp extra-virgin olive oil (plus extra for the bread bowl and baking pan)
4 tbsp white sugar
Zest of 1 lemon
2 tbsp chopped lemon thyme
2 cups fresh blueberries
Dissolve the yeast in the water and let sit 10 minutes to proof and bubble.
Place the flour and salt in a large mixing bowl, and mix to combine. Next, slowly pour in the yeast water and olive oil while mixing. Once a sticky dough forms, turn the dough onto a lightly floured work surface, and knead by hand for 7 minutes (the dough will become smooth and round but still be a little sticky). Place the dough in a large bowl coated in olive oil, then flip the dough over so that the top and bottom are both oiled. Cover the bowl with a damp tea towel, and let rest 30 minutes. Punch down the rested dough, reshape it into a smooth ball, cover and let rise for 3 hours.
Preheat your oven to 375˚F, and generously grease a 9-by-13-inch baking pan with extra-virgin olive oil. "Pour" the risen dough out of its bowl and across the prepared baking pan, but do not spread it out with your hands. Leave it to self-level for 20 minutes, then rub olive oil on your fingertips, and coax the dough to the corners of the pan while also dimpling the entire surface of the dough. Drizzle the top with extra olive oil, and leave the dough to rest uncovered for 10 more minutes.
Place the sugar, lemon zest and thyme in a medium-sized bowl, and mix. Add the blueberries, and toss to coat. Next, evenly distribute the mixture atop the dough, and place in the preheated oven to bake for 25 minutes. Remove the baked focaccia from the pan, and let cool 10 minutes before slicing in.