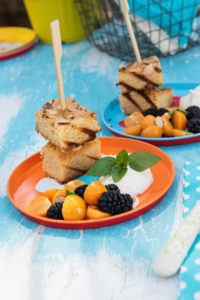 This is a riff on Boterkoek ,which is a Dutch butter cake with a distinctive almond flavour. Any which way this cake is served is delicious, including putting it on a skewer to grill and then pair it with fresh fruit and a yogurt dip. A great summer dessert.
1 c. room temperature butter
1 ½ c. white sugar
2 eggs, room temperature
½ tbsp. vanilla extract
½ tbsp. almond extract
1 ½ c. all purpose flour
1 c. almond flour
2 tsp. baking powder
pinch of kosher salt
1 egg, beaten and set aside for an egg wash before baking
¼ c. natural slivered almonds
Preheat the oven to 350°F. Spray and line an 8"x 8" pan and set aside. In a small bowl, stir together the two types of flours, the baking powder and salt, then set aside.
Cream the sugar and butter together until light and fluffy.  Add the eggs, one at a time, mixing until combined. Add the two extracts, followed be the dry mixture. Mix until just combined.
Press the dough into the prepared pan, brush the top with the egg wash and then sprinkle almonds all across the top. Bake for 30-40 minutes, until a toothpick comes out clean and the edges are golden brown. Let cool completely before slicing.
This cake is delicious if you choose to go no further. However, if warm, slightly crispy cake is appealing, skewer 1 ½" cubes of cake and pop them onto the grill until golden grill marks appear. Serve alongside fresh fruit and a whipped yogurt dip.