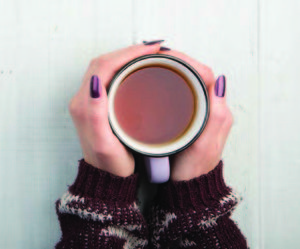 As far as buzzwords go, hygge is a bit of an oddball. Not many people can easily tell you what this Danish word means, and fewer can pronounce it properly. In English, it's usually defined as "coziness" or "conviviality," but that doesn't fully get to the heart of hygge. So let's try defining it with an image: Picture yourself on a cold winter's night, in your favourite cozy sweater, drinking mulled wine with loved ones in front of a blazing fireplace. Sounds nice, doesn't it? That's hygge. Sort of…
Say That Again?
From the moment hygge started trending in the UK a few years ago, mispronunciations abounded. Everything from "higgy" to "huggy" to "hugger" was bandied about. Part of the problem is the Danish "y." We don't really have this vowel sound in English, at least not one that can be spelled with a single letter. It's somewhere between "ew" and "yew." Drop an "h" in front, and you have a word that sounds like "HEW-gah" or "HYEW-gah." Or, better yet, look it up on YouTube and listen to an honest-to-goodness Dane say it aloud.
A Short History of Hygge
Though hygge is a Danish word, there are two schools of thought regarding where it got its start. According to The Little Book of Hygge by Meik Wiking (a Dane), hygge is a Norwegian loanword meaning "well-being" that came into written Danish 200 years ago. Collins English Dictionary, on the other hand, says that it comes from the Old Norse word hugga, meaning "to comfort." Right or wrong, both origin stories help define hygge. It's all about having a good time with, and feeling close to, the people around you. It's that warm and fuzzy contentment you get from wearing a cashmere sweater on a dark and chilly night.
In 2016, hygge was named a word-of-the-year finalist by both the Oxford and Collins dictionaries. It lost out in both cases, to post-truth and Brexit, respectively. The funny thing is, those word-of-the-year shortlists might give some clue to hygge's sudden popularity. In a year that gave us alternative facts, divisive elections and one celebrity death after another, hygge was a pleasant break from a lot of ugliness.
Happiest People on Earth
Speaking of contentment, Denmark finished second in the UN's 2017 World Happiness Report and consistently ranks near the top in other happiness measures. As the VisitDenmark website puts it, "hygge helps illuminate the Danish soul." Besides being a great hook, what's not to love about the idea of a tiny country figuring out a shortcut to zen-like happiness?
Add a Little Hygge to Your Life
So how does one create hygge? Well, it might actually be easier than trying to translate or define it. The tourism touts at VisitDenmark recommend "creating a warm atmosphere and enjoying the good things in life with good people." It's an oddly specific but vague answer, yes? Alas, where definitions fail, books often succeed, and there is certainly no lack of titles on the subject. Here are some to consider:
The Little Book of Hygge: The Danish Way to Live Well, by Meik Wiking
Hygge: The Danish Art of Happiness, by Marie Tourell Søderberg
How to Hygge: The Nordic Secrets to a Happy Life, by Signe Johansen t8n
There's a Word for That?
Here are some other fun Nordic words:
Forelsket (Norwegian): The euphoria of falling in love
Kura skymning (Swedish): Sitting quietly at dusk and doing nothing
Lagom (Swedish): Not too much or too little; just the right amount
Sólarfrí (Icelandic): Time given off from work to enjoy unexpected good weather