You've renovated your home, including fresh paint on your walls. Yet, there's still something missing. This is where window treatments can pull everything together, and Days Paint has you covered. By partnering with Hunter Douglas, Days Paint offers customers a comprehensive one-stop decorating experience.
Window treatments have come a long way since the days of heavy drapes. Consider Hunter Douglas' newest window treatment: Designer Banded Shades. These shades have alternating horizontal bands of solid and sheer fabric that allow you to control how much natural light you want coming into your home. Hunter Douglas representative Rocky Raynor notes these blinds provide versatility to a room with the gentle touch of a button. You can have full or partial privacy without having to raise or lower your blinds.
We live in an extreme climate, so Hunter Douglas also offers a range of insulated blinds. Enjoy warmer rooms in winter and cooler rooms in summer, since these help stop cold drafts seeping in from your windows and prevents the hot sun from turning your house into an oven.
And if you find that pulling on cords or twisting rods to adjust your blinds is frustrating, Hunter Douglas offers the capability of opening or closing them by remote control. You can program your blinds for 'daytime,' 'night time,' and '24 hour clock' settings where the blinds adjust to follow the rising and setting of the sun. And with a simple phone app, you can operate your blinds from anywhere in the world.
Plus, Hunter Douglas has one of the best warranties in the business. They give their customers a limited lifetime warranty that includes a seven-year warranty on cords. And matching your window treatment to the new colour on your walls couldn't be easier as Hunter Douglas carries a vast array of colours and styles to complete the look of your home.
Days Painting Supplies
382 St. Albert Trail
780 460 7708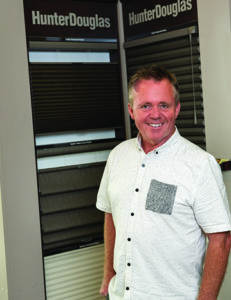 Meet Rocky Raynor
"There's a lot of underutilized square footage on your walls," begins Rocky, Hunter Douglas Representative. It's not something we often think about, but Rocky believes that window treatments are the best way to maximize any space, and add value to your home. He'll work with you to discover and create the best solution with a free consultation. And he won't disappear after you've chosen your blinds; he's there from your first phone call to the final install because he's the consultant, contractor, and installer. This means that you, and your windows, get the full-service treatment.
This sponsored content was produced in partnership between Days Paint and T8N Magazine