While most of us are counting down winter by dreaming of the coming spring, the more resourceful of us are turning those dreams into reality. Cynthia Booth, Julie Adams, Karen Wilson, Lisa Alary and Kerri Parayko are designers and artists who have been spending the winter finding ways to bring the outdoors in. And they're using methods that go far beyond the conventional potted plant. By thinking of houseplants as artistic displays, these talented designers have created inspired green spaces that are easy to DIY, inexpensive to make and painless to maintain. Ready to think so, too? Take a look.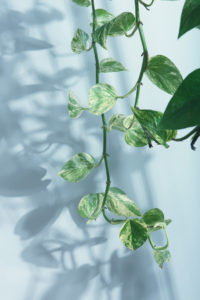 Hyacinths and philodendrons both make great indoor plants for beginners. They're hardy, easy to care for and don't require significant amounts of sunlight or water. When grown outdoors, hyacinth bulbs are usually planted in the autumn and lay dormant until the spring, but indoors, this growth cycle can be accelerated so that you can enjoy them year-round. A beautifully grown plant, however, is only part of the wow factor. According to Karen Wilson of Wren Design, a good plant is nothing without a good vessel to place it in. "The pot is a big part of the décor," says Karen, "I'm always on the hunt for ones with interesting textures and colours that will complement the space I'm designing."
If you'd love a bit of greenery in your home, but don't have much of a green thumb, air plants might be a good choice for you. These amazing plants are super hardy and famously easy to care for. Best of all, they don't require soil and will contentedly live almost any place you set them down. To keep them looking their best, give them lots of light and mist them with water every few days.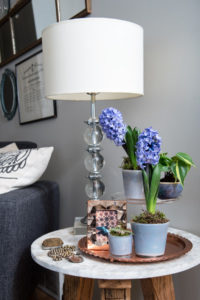 Macramé, anyone? This woven throwback to the 70s is back in style and more beautiful than ever. According to Julie Adams of
Of Quartz Interiors, "It adds a bit of whimsy to a space and makes it feel a little more eclectic. Living in a northern climate means you can spend 90 percent of your time indoors. It's important to liven those spaces up." Julie even teaches macramé workshops so that anyone can start weaving their own home décor.
Is contemporary more your style? Moss art is part greenery and part visual art. Instead of canvas, these frames hold one or more patches of preserved moss, along with bits of wood to break up the greenery, and even some small air plants. Moss art is great if you want to create a green space in low-light spaces of your home. Just a light mist of water every few days will keep it looking fresh.
Speaking of art, that's exactly what flowers can become in the right hands. Lisa Alary of Fleur-de-Lise has made a career of taking the formal elements of design and applying them to plants in interesting ways. Lisa's floral arrangements, floral jewellery and palm weavings do more than just add a bit of greenery to a room. In Lisa's view, "floral art can bring a lot of beauty to the cold and clinical spaces that we find ourselves in. It offers a lot of life and light and helps to bring nature in from the outdoors."  t8n