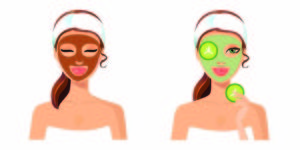 Few beauty treatments are as relaxing (and affordable) as a face mask. You know the ritual: sitting around in your sweatpants, eyes closed, glass of wine in hand, waiting for the magic to happen. And with all the hustle and bustle the holidays bring, it's likely just the right time for a little break. But, with so many masks on the market, which one is for you? Here we profile four popular varieties: sheet, charcoal, clay and exfoliating.
Sheet Mask
What it is—True to its name, a sheet mask is a thin, fabric sheet soaked in a vitamin-packed, serum-based formula.
What it does—A sheet mask moisturizes and brightens the skin. Since it boosts hydration, this mask is great for targeting dull, dry skin. Its hydrating effect will last about a day.
Who should try it—Pretty much anyone looking to add moisture to his or her skin; however, those prone to acne should steer clear (or at least test it out on a small spot first).
How to apply it—Starting at your forehead and working your way down, gently pat the mask against your skin, lining up your eyes, nose and mouth with the holes in the sheet. Wear the mask for 20 to 30 minutes then peel it off and throw it away. Massage any remaining serum into the skin. Each brand differs slightly, so always read and follow the manufacturers' instructions.
Price point—Most sheet masks range from $3 to $15 per mask.
Charcoal Mask
What it is—A charcoal mask is a peel-off mask made from charcoal powder and often glue (yep, glue!).
What it does—This mask is probably best known for removing blackheads. Charcoal has natural absorbent qualities, so it absorbs oil and pulls dirt and toxins from your skin.
Who should try it—Anyone with a congested complexion, unless you have issues with dry skin.
How to apply it—Charcoal masks usually come in a creamy or gel-like formula. Use your fingers to apply a thin layer to your T-zone. Wait for the mask to harden (about 10 minutes, but each brand differs), and then slowly peel it off. This mask is sticky, so pulling it off can be painful for some—just ask YouTube! As always, read the instructions on the package before using.
Price point—Anywhere from $15 to $50.
Clay Mask
What it is—A clay mask is a cream-based mask that contains a high mineral content and has absorbent, exfoliating and astringent properties.
What it does—Just like its charcoal counterpart, a clay mask draws out dirt and toxins. However, unlike charcoal, a clay mask also nourishes the skin with vitamins and minerals. As a result, this mask will absorb oil without leaving skin tight or dry.
Who should try it—Almost anyone. This mask is good for acne-prone skin, as well as aging skin; however, don't try it if your skin is extra dry or irritated.
How to apply it—Use your fingers to apply it evenly onto your face. Let it sit for 20 to 30 minutes. Spritz water on the mask as it sits to help it continue to treat your skin. Rinse it off with warm water. You guessed it—always read the instructions on the packaging.
Price point—Anywhere from $10 to $50, but they can be more expensive.
Exfoliating Peel-Off Mask
What it is—An exfoliating peel-off mask comes in a gel formula that solidifies on your face. It contains tiny abrasive particles in the gel and/or mild chemical or acidic ingredients for deep exfoliation (some products contain both).
What it does—It gently exfoliates the skin, creating a smooth complexion and brightening dull skin. The abrasive particles scrub dead skin cells from the skin's outer layer. The chemical or acidic ingredients penetrate the skin for deep exfoliation.
Who should try it—This mask is great for anyone looking for brighter, more radiant skin. However, those with super sensitive skin will want to be cautious and test it before committing.
How to apply it—You'll definitely want to follow the instructions on the packaging, but most brands will tell you to apply the gel to damp skin, gently massage it in, let it sit until it solidifies, then peel it off.
Price point—Most brands are at least $40, but less expensive versions are available.  t8n
Making the Most of Your Mask
A little preparation goes a long way. Before you apply your mask, cleanse your skin thoroughly (and skip the moisturizer). Next, gently exfoliate. Some beauty gurus suggest opening your pores with steam as
a final step before application.
How Often Should You Use a Mask?
Turns out you can have too much of a good thing, at least when it comes to face masks. Many face masks can be used once or twice a week, but any more than that may irritate or dry out your skin. Follow the manufacturer's directions.