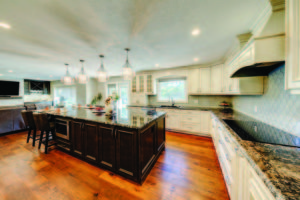 Your home is the centre of family activity. It's where toddlers take their first steps, cushioned by the safety of the living room carpet. It's where friends gather for laid-back summer nights. And it's a place where even teenagers find a way to make it to the table for Sunday dinner.
But living in a space that doesn't feel completely comfortable or meet your family's needs can make staying in a chore, encouraging family members to spend more time outside the home. That's where Caruana Interiors and Contracting can help. Specializing in home renovations from bathroom refreshes and kitchen upgrades to whole home improvements and custom homes, they offer a full range of services to optimize your home for building memories together.
Main Floor Renovations
The kitchen is the heartbeat of your home, and main floor renovations help to maximize space in the kitchen and main living areas, and draw people together through functional, intelligent design. Main floor renovations can be as minor as updating the flooring and kitchen fixtures, or as involved as a complete floor-to-ceiling redesign. Owner Neville Ward and his team are up for anything that makes your home the place you want to be.
Redesign projects such as taking out a wall between the kitchen and the living room, or putting in a functional island, are often where the improvements begin. Bringing two rooms together is an easy way to make your home appear larger, and it creates a centralized area for entertaining and relaxed everyday living. A large island that doubles as a kitchen table anchors the space and creates a natural gathering place. Can't picture what your kitchen will look like with an aqua backsplash and quartz countertops? That's okay—all major renovations with Caruana Interiors and Contracting include interior design services. Their in-house designer will help you choose colours and styles to fit your personality, and work with a network of trusted suppliers for fixtures to fit your budget.
Whole Home Renovations
For homes that have been well cared for but have two feet firmly rooted in another decade—we're looking at you, golden oak—Caruana Interiors and Contracting provides whole home renovations. These include fresh paint, new flooring, updated fixtures, a kitchen redesign, bathroom upgrades on every floor—it's a way to see your entire home at its best.
A good start is replacing outdated finishes with colours and styles that will grow with you. Or develop a bedroom in the basement for your teenager and redistribute excess space in the laundry room to a guest room en suite. Make a statement with a new front door, or get cozy next to a feature fireplace. With a whole home renovation, Neville and his team work on several areas at once, so you can enjoy your 'new' home sooner than typically expected.
Their skilled staff ensure a high calibre of work that they've become known for in their decade of business. The team at Caruana Interiors and Contracting believes in excellence, and keeping the majority of the work in-house means they can ensure your home renovation is completed to this standard. Plus, with their "start clean, work clean, finish clean" policy, you'll come home to a space that's ready to go—no vacuuming required.
Home Additions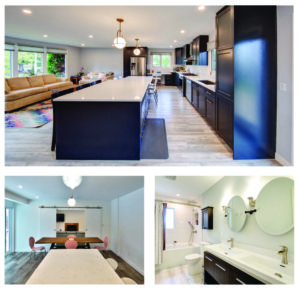 You love your neighbourhood, your kids' school, and your home, but having even a few people over pushes capacity over the limit. What can you do?  Add on, of course.
An addition, such as a home office or second family room over the garage is a way for your home to change as your needs do. Increasing the main living area by as little as two or three feet can provide enough space to completely redesign the layout. Whether you need an extra room to accommodate a growing family, or just a little more space to breathe, an addition by Caruana Interiors and Contracting can be all that's needed to make your home work for you.
Whether you're walking into the kitchen of your dreams or taking the inaugural tour of what feels like a brand-new home, Caruana Interiors and Contracting promises turnkey service. The team takes care of everything from moving furniture back in and hooking up electronics and appliances to having the vents professionally cleaned. You can expect to find your home fully ready to enjoy once the renovation is complete.
There are a lot of reasons to renovate your home, but accommodating the people most important to you is one that will never lose its value. You can't easily replace 30-year-old trees, or replicate that spot in the kitchen where your kid lost his first tooth. But with the help of Caruana Interiors and Contracting, your original family home can grow with you.
Did You Know?
Installing pot lights in your living room will make it feel bigger. It's common to not have a ceiling fixture installed in the living room, leaving homeowners to light the space with lamps. But while the glow of lamplight is cozy, it also creates the illusion of a smaller space by casting shadows. Enter pot lights—small lighting fixtures recessed into the ceiling—that shine evenly, eliminating dark spots and resetting the room to its rightful size. And you can put them on a dimmer to create that cozy evening mood.
Did You Know?
Hiring professionals can actually save you time and money. In a home, things are not always as they seem. A load-bearing wall may appear to be like any other. Or rerouting the plumbing may look straight forward, but making an error in judgement can cost you more than just the cash it takes to fix it. Hiring professionals, like the team at Caruana Interiors and Contracting, means that you don't have to take time off work to receive deliveries of building supplies or handle unexpected issues that arise. You can just simply enjoy the anticipation of your new space. When it comes to home renovations, don't take chances. Rely on the professional, efficient, and worry-free experience that Caruana Interiors and Contracting is known for.
780.935.5831
caruanainteriors.ca
info@caruanainteriors.ca | 9, 8 Riel Drive  I  St. Albert, AB T8N 3Z7
This sponsored content was produced in partnership between Caruana Interiors and Contracting and T8N Magazine