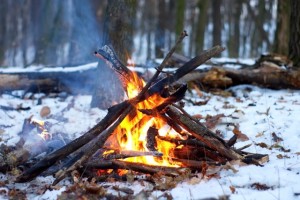 If the holidays have left you needing a holiday, look no further than this list. Small but mighty, it's a fun-filled itinerary of places to escape for a winter getaway. Even better? They're all within 100 miles of St. Albert—a few are right in our backyard. From steam-train excursions to patio parka parties, it's a list that we hope has your name on it.
Adventure Ice Fishing—If you've never been ice fishing, it might be time for a trip to Gull Lake. Besides being a prime fishing spot in Alberta, it's also home to the only outfitter in the province that offers overnight excursions.
Location: Gull Lake is halfway between Edmonton and Calgary. Take Highway 2 to Lacombe, and then turn west on Highway 12 and watch for signage.
What you'll discover: The Adventure Ice Fishing company provides everything you need to sleep with the fishes and hopefully catch some, too. Propane furnaces and stoves, overnight huts with four bunk beds, rods, gear, pots, pans, bait—even predrilled fishing holes.
For more info: Visit adventureicefishing.com
Elk Island National Park—Winter is a great season to visit Elk Island, especially if you like snowshoeing or cross-country skiing. The park trails are multi-use, but snowshoers are asked to preserve the ski tracks and snowshoe beside them (not on them).
Location: The park is located near Fort Saskatchewan just off the Trans-Canada Highway, 35km east of Edmonton along the Yellowhead Highway.
What you'll discover: Visitors to the park in the winter are likely to spot elk or moose strolling through the trees, as it's easier to spot them once the leaves have fallen. If you do come across wildlife on the trail, just remember to give them their space and to keep their line of travel (or escape route) clear.
For more info: Visit www.pc.ca
Alberta Bed & Breakfasts—Staycations are more popular than ever these days. But staying at home doesn't have to mean staying at your home. There are fantastic B&Bs scattered all across Alberta. Finding one is as easy as checking out the Alberta B&B Association's website.
What you'll discover: The Alberta B&Bs experience is as diverse as our landscape. You'll find them located on farms, beaches, waterfronts, mountain retreats, as well as in small towns and urban centres. You can choose from historic homes, modern homes, country homes and cabins—all at varying prices. But don't think that B&Bs are just for family trips or romantic getaways. They're also a great option for business travel and conferences.
For more info: Visit www.bbalberta.com.
Fort Edmonton Park—Everyone loves Fort Edmonton Park in the summertime, but did you know they host moonlit "Snowshoe Through Time" events, evenings in January and February? Don't miss out.
Location: Fort Edmonton Park is located at the corner of Fox Drive and Whitemud Drive (7000 143 Street). It can also be easily accessed by ETS bus routes.
What you'll discover: As if snowshoeing by moonlight through Edmonton's river valley wasn't enough of a treat, the park's Snowshoe Through Time events also include horse-drawn wagon rides, a bonfire with hot apple cider and a chance to explore what life was like for settlers in 1846. Fun for the entire family.
For more info: Visit
www.fortedmontonpark.ca
Alberta Prairie Railway's Valentine's Day Dining Excursion—Okay, this destination takes a little more than 100 miles to get to, but we're squeezing it in anyway. It's for Valentine's Day after all, and love is worth going the distance.
Location: All excursions depart from and return to Alberta Prairie Steam Tours in Stettler, located at 4611 47 Ave.
What you'll discover: The Valentine's Fine Dining Excursion is a 5-hour trip on a diesel- powered train with a stopover in Big Valley. The package includes entertainment and a 5-course meal with your choice of entrée and wine.
For more info: Visit www.absteamtrain.com/schedule.html
The Long John Index Service of Canada
Before you head out on your winter excursion, you might want to check a reliable weather service—This Is Not It. The Long John Index Service of Canada
will, however, give you an idea of just how cold it is outside. The index is simple and works on a scale of 1 to 5: 1 means long johns shouldn't be needed; 5 means wear them indoors. Check it out at www.longjohnindex.ca.
Winter Patio Season
Yup. It's a real thing—and more popular every year. Latitude 53 in Edmonton even hosts a Parka Party in March. Here are some other places to take in the fun.
Café Bicyclette, 8627 91 Street, Edmonton
Wild Earth Zoo, Edmonton Valley Zoo, 13315, Buena Vista Road
Urban Green Café, Louise McKinney Park, 9999 Grierson Hill Road, Edmonton