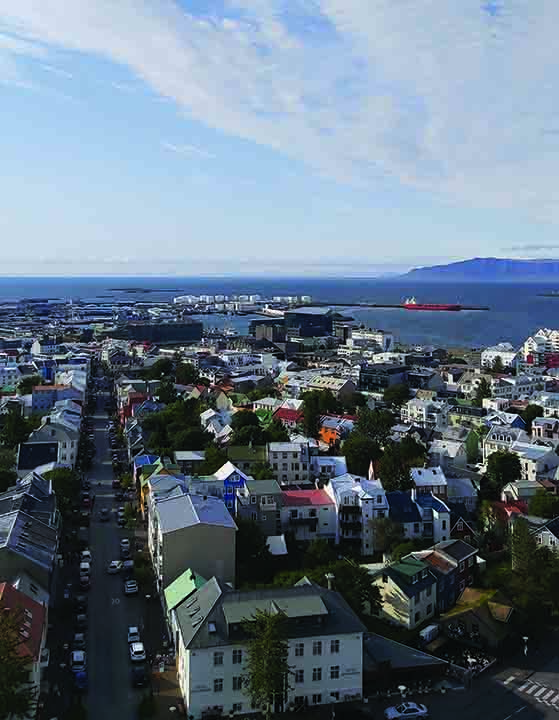 Full of stark, otherworldly landscapes and blessed with a rich cultural heritage, Iceland has long gripped the imaginations of intrepid travellers. But it's only been in recent years that this island country has transformed itself from a sleepy backwater, where sheep outnumber humans, into a tourist hotspot. Even more recently, couples hoping to tie the know have started choosing Iceland as a choice destination for exchanging vows. With direct flights and layovers making it easier than ever to visit, here are a few highlights that make a trip to Iceland a unique experience.
Explore the Big City
The capital and largest city, metro Reykjavík is home to almost 230,000 people, or two-thirds of the nation's population. It's traditionally held to be the site of Iceland's first Viking settlement over 1,100 years ago. The city's compact and walkable centre,
Old Reykjavik, contains museums, galleries and hip cafés, along with many of the city's tourist sights. These include Tjörnin, a popular lake and birdwatching spot; Hallgrimskirkja, a Lutheran church with an iconic tower; and the trendy shopping-and-nightlife street, Laugavegur.
Go Full Circle
For layover travellers and daytrippers alike, the Golden Circle is a popular way to see Iceland in a short time. This 300 km tourist circuit is just east of the capital, and hits some of Iceland's best known natural and historical attractions. These include Geysir, the spouting hot spring that gave its name to all other spouting hot springs. Although it erupts infrequently now, nearby geyser Strokkur is much more reliable. It goes off every few minutes and can reach as high as 40 metres.
An alternative to the heavily visited Golden Circle is the Diamond Circle in the remote northeast. This route explores canyons, waterfalls and volcanic landscape around Lake Mývatn and the fishing village of Husavík.
Hit the Ring Road
The best way to visit the sparsely populated regions outside of Reykjavik is by renting a car and taking Iceland's Route 1. This 1,300 km highway rings the island and hits many of its regions, major towns and tourist attractions. Though not long, you will find yourself stopping a lot: a week or more is recommended to do the full drive justice.
For those just wanting a day trip, the southern coastal town of Vík í Mýrdal (Vík for short) is an easy drive from the capital. Lying at the foot of the Mýrdal glacier and the active volcano Katla, rainy Vík is surrounded by lush, green mountains and famed for its beautiful black sand beach, Reynisfjara.
Take a Warm Dip
Born of volcanic activity, modern Iceland is a geothermal superpower. In fact, geothermal energy supplies most of the nation's heat and hot water and a quarter of its electricity. It also makes for some great bathing and swimming. Hot springs dot the countryside, the most famous being the Blue Lagoon, halfway between Reykjavík and the international airport. Swimming, meanwhile, is something of a national pastime. Almost every town and village has a public pool, and most of them are heated by hot springs.
Mind the Wildlife
Iceland's skies and waters are full of diverse and unique animals, making wildlife viewing very rewarding. Harbours around the country offer boat tours that regularly encounter seals, dolphins and even whales. Whale watching tours with high success rates can be found in Reykjavik, the Snæfells peninsula in West Iceland, and Husavík and Akureyri in the north.
Iceland is also a birdwatchers' paradise, with puffins perhaps the top draw. Famous for their striking colours and hangdog faces, these birds can often be found in enormous colonies on steep ocean cliffs. Top spots for puffin viewing include the Westman Islands and Vík in South Iceland and Látrabjarg, Europe's largest bird cliff, in the extreme
northwest. t8n
Getting Married in Iceland
• A wedding in Iceland can make for a picturesque occasion, with a plethora of classic wooden churches available. Those yearning for an outdoor ceremony have a veritable landscape from black sand and glaciers to mountains and volcanoes as memorable backdrops.
• While Icelandic weddings embrace diversity involving ethnicity, religion and sexual orientation, there is a bunch of paperwork that needs to be submitted. Those include birth certificates, passports and a wedding certificate that can easily be downloaded from the Registers Iceland website. All documentation must be sent at least three weeks before the wedding date.
• Depending on when a wedding take place, make sure to dress for the elements. Ice and snow are predominant, even as late as May and as early as September. Summers are hot and dry, much similar to Alberta.
Iceland Travel Info
Arrival: Iceland's main port of entry is Keflavík International Airport. Canadians do not a visa for stays of up to 90 days.
Driving: A valid Canadian license is all you need. To rent a car, you have to be 21 or over and have held your license for over a year. Be warned that traffic circles are common, on roads outside the capital.
Electricity: Plugs resemble those in Europe, and the current is 220 volts.
Language: Icelandic is the official language, though many Icelanders are fluent in English, especially young people and those working in the travel industry.
Money: Iceland's currency is the Icelandic króna. A rule of thumb is that 1000 ISK is roughly 10 CAD. Bring your Canadian bank card for backup: ATMs are plentiful and offer decent exchange rates.