While some provincial ridings in Alberta are considered 'strongholds' for their respective parties, St. Albert has never been anything of the sort. This city has a long reputation as a swing riding, where victory is never guaranteed. This has led to a long tradition of narrow victories, surprising upsets, and a voter base that always keeps politicians on their toes.
Pre-Alberta
When St. Albert elected Samuel Cunningham as their first MLA in 1885, the town was still part of the Northwest Territories. Cunningham and his successors—Antonio Prince (1891–1894), Daniel Maloney (1894–1898), Frederic Villeneuve (1898–1903), and Louis Lambert (1903¬–1905)—didn't have the same kind of power that MLAs have today. Their assembly was overseen by the Lieutenant Governor, who listened to their concerns but made the final policy decisions himself. However, in 1905, the MLAs of Northwest Territories assembly won the right to make their own decisions, and the provinces of Alberta and Saskatchewan were formed.
The Early Years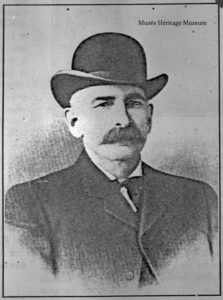 St. Albert's first MLA within the Legislative Assembly of Alberta was a man named Henry McKenny. Though he represented St. Albert, the town was just a small part of his riding. The voting population of Alberta at the time didn't warrant very many districts, and so 'St. Albert' also included voters from as far north as Slave Lake and as far west as the Rocky Mountains.
By the time Lucien Boudreau (a former St. Albert mayor) won his first MLA seat in 1909, the riding had shrunk considerably, only going as far west as Calahoo, and as far north as Legal. Boudreau served as MLA for 12 years (1909–1921), and again for another four years (1926–1930). His predecessors had all been independent, making the Liberal Boudreau the first St. Albert MLA to represent a political party.
As an early Alberta Liberal, Boudreau's main political opponents came from a party known as the United Farmers of Alberta (UFA). Representing rural interests, the UFA's Télesphore St. Arnaud served as MLA from 1921–1926, followed by Omer St. Germain who served from 1930–1935. The 1930s marked the start of the Great Depression, and despite more than a decade of holding power, the UFA was starting to lose popularity. In the 1935 election, the UFA went from being a majority government to losing all their seats. Even with crossing the floor to join the Liberals, St. Germain still lost the election. An upstart political group known as The Social Credit Party won the majority, and would dominate Albertan politics for the next 36 years
Social Credit Era
The election of Charles Holder in St. Albert in 1935 helped cement the fledgling Social Credit Party's victory in Alberta, but St. Albert voters remained open to opposition candidates during their long reign. Lionel Tellier won the next election in 1940 as an independent candidate, the last MLA from St. Albert to do so. In 1948, Social Credit's Lucien Maynard became the first MLA from St. Albert to serve in the cabinet, becoming the Minister of Municipal Affairs.
Maynard was followed by Liberal Arthur Soetart (1955–1959) and Social Credit's Keith Everitt (1959–1971). In the 1971 election, Peter Lougheed's Progressive Conservative party swept the election, with PC Ernest Jamison serving as St. Albert's MLA. The PC Party would go on to break the winning streak of the Social Credit Party, remaining in power for the next 44 years.
Today: Progressive Conservative Era
PC Myra Fyfe became the first woman to represent St. Albert in the provincial legislature in 1979, and she did so by winning the largest popular vote percentage in St. Albert's history. Fyfe was followed by NDP's Bryan Strong (1986–1989), PC and former St. Albert Mayor, Dick Fowler (1989–1993), Liberal Len Bracko (1993–1997) and PC Mary O'Neill (1997–2004), who beat incumbent Bracko by a mere 16 votes.
Liberal Jack Flaherty won the first election of the new millennium in 2004, followed by PC and long-time city councillor Ken Allred in 2008. In 2012 Stephen Khan became the final PC MLA to serve St. Albert, as the election of 2015 resulted in the end of the party's 44-year reign, and the eventual dissolution of the party. St. Albert is currently represented by NDP MLA Marie Renaud.
With the transition of the old PCs and Wild Rose Party into the United Conservative Party, the 2019 Provincial Election is going to be unknown territory for voters and politicians. But looking back on St. Albert's history, one thing is clear: In the race for our next MLA, it's anyone's game. t8n
Fun Fact
St. Albert is not one for party loyalty. New MLA candidates from incumbent parties have only ever been elected three times in St. Albert's history.
Did You Know?
Lucien Boudreau, former mayor and second Albertan MLA of St. Albert, is remembered for many policies. But perhaps most famously, he's known as the only MLA in Alberta to vote against women's suffrage.