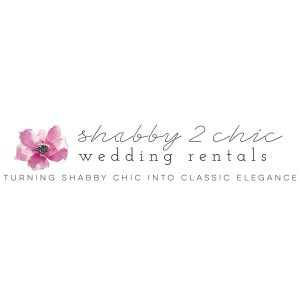 You thumb through the bridal mags, you scroll through Pinterest and you scrutinize other weddings—but you still haven't found your style. You want that signature look that'll set your wedding apart from all the ones that you see in print, on screen and in person.
Enter Pamela MacKay at Shabby 2 Chic. As the name of her business says, the style she offers is shabby-chic. She loves this style as it can accommodate so many personal tastes. You can take the "shabby" and make it quite rustic, or go to the opposite end of the spectrum and make it quite elegant. She has everything you need to make your special day look as romantic as you feel.
When you enter her store on Perron Street, you immediately feel as if you've walked into a romantic moment. Among the linens, cake stands and candles is her focal point: the tablescape. Right now it's dressed for autumn with silk flowers that you'd swear are real. There's tulle and a sand-coloured table linen, ivory table settings and crisp white linen napkins flowing out of wine glasses. If you had doubts about Pamela's ability to decorate your venue for your wedding, that tablescape would certainly put an end to them all.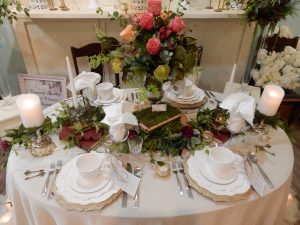 She really hasn't been in the wedding business all her life, either. As she explains, "I started this about a year and a half ago just doing small weddings, accumulating a lot of things. I've been sewing for others and decorating and found I loved doing it—it was my cup of tea." It wasn't until a few months ago that she decided to open an actual store, as she had been working out of her home. Her current location isn't big enough to hold all of her stock and rental items, but it does offer exposure and, more importantly, allows customers to see with their own eyes and touch things, which Pamela says makes a huge difference for many people.
Her rule-of-thumb in acquiring items is they have to have a sense of one-of-a-kind. Though she mostly sources from the States, she tries very hard to keep things as local as possible. She explains, "I'm trying to be different than everybody else, offer something unique with respect to décor. But it depends on people's tastes. We'll work with people and use a colour palette to ensure that everything goes together." She also says that a lot of people are liking the romantic look, trying to capture that softness and romance and incorporate it into their theme.
Her store is not just a showroom for decoration rentals; there's a retail section, too. There are linens, bathroom items, vases, bedding—just to name a few—to bring the shabby-chic look into your home. So whether you're planning a wedding, an anniversary celebration or even just an intimate dinner, Pamela at Shabby 2 Chic can definitely help you find your style and customize the "shabby" to fit you.
Things To Consider
Pamela insists on a consultation so that all parties involved can get a sense of each other and for what will fit the special event and budget.
Her service includes set-up and tear-down.
Her website, which is currently undergoing an exciting update, includes an inventory of all items available for rental and purchase, with prices.
Some of the items she rents are chandeliers, hurricane lamps, lanterns, table linens, glassware, arbours, place settings, silk flower arrangements, cake stands, cake service (a.k.a. knife and server) and pillars.
She'll be an exhibitor at the October 16th OneLove Wedding Experience at the Courtyard Marriott Edmonton.
If you can't wait for the show visit the store at 31c Perron Street, St. Albert.
For more information click here or contact Shabby 2 Chic on Instagram at shabby2chicweddingrentals.