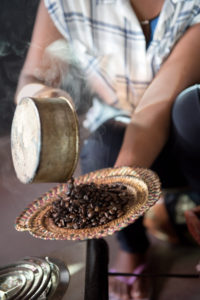 Saviour's Café & Bistro has been a long time in the making for owner Solomon Debesay. Arriving in Canada in 2004, Debesay worked a mélange of jobs for more than 10 years before his passion for food led him to the restaurant business and the opening of Saviour's in November of last year.
"To be honest, I love cooking," Debesay explains, "but I didn't go to school for it."
Debesay learned how to prepare dishes in his native Ethiopia, where he taught high school for a living. When he came to Canada, he brought with him his love for cooking, which served him well when his family followed in 2011. "When they came here, as immigrants like me, I started cooking for them," he says. It would be some years later, however, before Debesay would put his culinary skills to use professionally.
Settling first in Edmonton and then in St. Albert, Debesay worked jobs as a glasscutter, a Mac's cashier and a bread-delivery driver—in addition to running a janitorial service. It was during his time as a driver, from 2006 to 2016, that he came to know St. Albert. "It's a good place to live," he says of the city he now calls home. "The people are very nice."
Like Debesay himself, the concept for Saviour's has also gone through something of a journey.
"When I first came to open Saviour's Café, I was trying to go all Italian," Debesay recalls.
But taking note of all the other Italian restaurants in town, he reconsidered. Keeping some of the Italian, he added a few East African dishes to the mix. "I have Italian pizza, all my pastries are Italian and I have cappuccino and macchiato, so it's a mixture of Italian and African," he says of the restaurant now. Though the pairing may not seem obvious, it's also not as strange as it might sound. As Debesay points out, Ethiopia was once briefly colonized by Italy, and even today, pasta is a common food there.
However, as appetizing as the panini and tiramisu look, the African element is what really sets Saviour's apart. The restaurant serves up traditional fare such as tibs (sautéed meat and veggies) and slow-cooked wot (thick stew or curry). These are eaten by hand using injera, a sourdough flatbread. Made from teff, an iron-rich grain that mainly grows in Ethiopia and Eritrea, injera is absolutely central to the cuisines of those countries. It comes to the table in rolls, from which diners tear off hand-sized portions to eat with. The bread's spongy, elastic texture is perfect for picking up food and sopping up juices, and its slightly lemony taste is a nice complement to the savoury fillings.
Another can't-miss highlight at Saviour's is the coffee ceremony. Coffee is believed to be native to the Ethiopian Highlands, and the drink has great cultural significance there. It is served after meals in a special clay pot called a jebena, which keeps the coffee warm for a long time so that drinkers can take their time chatting over it. Debesay adds ginger to his espresso-like brew (giving it a little bite) and serves popcorn as a light accompaniment. In acknowledgement that coffee drinking is a social activity in Ethiopia, the coffee service at Saviour's is meant for at least two people. Those eating solo will have to stick with the regular coffee (which is also pretty darn good).
The positive response to Saviour's has given Debesay confidence that his foray into the restaurant industry has been a wise one. On Facebook, TripAdvisor and Yelp, it's been one five-star review after another. That feedback is something that means a lot to Debesay.
"When the customers come, they encourage me," says Debesay. "Especially people in St. Albert, they're the best people. They're so encouraging." t8n
InJera 101
In Ethiopia, injera is made entirely from gluten-free teff. But here, a little barley and whole wheat are often added. Debesay is working on obtaining injera made with teff and rice, which will be 100% gluten free.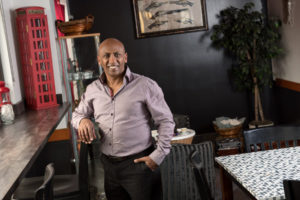 Saviour's Café & Bistro at a Glance
Location: #50, 24 Perron Street
Owner: Solomon Debesay
Specialties: East African and Italian cuisine; desserts and pastries; Ethiopian coffee ceremony
Interesting fact: Saviour's is one of several businesses located at the site of the historic Bruin Inn.