Originally printed December 2015, updated May 2018
The subject of backyard chickens—to allow them or not—is increasingly a part of the conversation cities and municipalities are having on the larger issue of urban agriculture. Along with turning unused city spaces—rooftops, parks, industrial yards—into herb, vegetable and flower gardens, growing numbers of urbanites are eyeing their backyards to provide more than greens and greenery. But a vegetable patch squeezed in front of or alongside a house or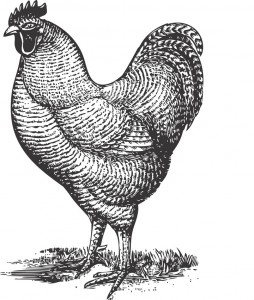 business is one thing—keeping beehives and chickens is another matter. In truth, most urban dwellers know very little about the realities of raising backyard chickens, daydreaming of farm-fresh eggs and softly clucking hens instead of thinking about the cost and maintenance of bringing up the bird.
St. Albert has recently begun its own backyard hen pilot project. Check the end of the article for more information.
The Local Debate
Chickens are part of urban culture in many parts of the world, and while it's much less common in North America, many cities—large and small—are examining or going ahead with licensing urban hens. In St. Albert, interested residents have already entered the debate, most recently with the urban agriculture conversation led by former councillor Gilles Prefontaine, which resulted in the formation of focus groups to determine the feasibility of growing food sources locally.
A casual query on the City of St. Albert Community Facebook page similarly offers no shortage of opinions from residents on the backyard chicken issue, with talk of everything from worrying about the smell and maintenance to the value of fresh eggs and the pleasure provided by watching chickens peck and scratch around the yard.
"I'd rather have useful chickens and bees next door than barking, pooping dogs," wrote Billie Milholland. "I would totally love to have a few laying hens in my backyard," agreed resident Kim Peto.
But a fair number oppose the idea, too: "I'm not for it. Noisy. Smelly. Messy. Allergy nightmares. Support local farmers and farmers' markets," wrote Sandra Kreba. "I'm all for urban backyard agriculture…within guidelines. No roosters for a start," wrote Dean Fortin. "I am one for fresh eggs, but chicken coops are not that glamorous. Think before you act," added Elaine Cloutier.
Some residents even remember a time when urban hens were allowed in the city.
"We had a chicken in our backyard in St. Albert. The neighbours that noticed her didn't mind, and the rest were oblivious," wrote Sandy Mitchell. Resident Wendy McEachern said, "We had a backyard chicken in 2001, and it was a fantastic experience for all of us. She was tame and laid eggs every day."
While debate is fine and good, it's up to City Council to make urban hens a reality here. And right now, it's hardly on the City's radar, according to Carol Bergum, St. Albert's Director of Planning and Development.
"The City prohibits raising of livestock. We're silent on bees—that isn't specifically defined in our land-use bylaw—but chickens are deemed to be livestock and aren't even considered except on undeveloped lands in our urban reserve districts," Bergum said.
"With any changes to bylaw," Bergum said, "public engagement is needed, which then would go to council before any rezoning or bylaw amendments can happen. The process takes about four to six months and is fairly involved and expensive, but changing the rules can be done," she said.
At a June meeting, Councillor Cathy Heron asked for information on the urban hen pilot project wrapping up this summer in Edmonton, a first step toward what some hope could be a similar pilot project in St. Albert.
Lessons Learned in Edmonton
It's likely a wise move for St. Albert to watch and learn from Edmonton's experiment with backyard chickens. While the pilot project doesn't end until August 2015, the City's principal planner in urban policy and analysis, Hani Quan, said there are already a few take-aways.
"We wanted homeowners to experiment with different numbers of chickens and various breeds—are some louder? Do some lay more eggs? What do you do if a chicken dies? We also expect to hear people say, 'Wow, that's more work than I thought it'd be,'" Quan said.
Case in point. For as long as hens have been allowed in some U.S. cities, articles have been written about the unforeseen consequences of allowing so-called hipster farmers to raise chickens in the city. According to a 2013 report from the U.S. Chicken Run Rescue, 400 to 500 chickens are dropped off every year at a New York farm sanctuary, abandoned by urbanites who find the birds to be more of a burden than a blessing.
But near the end of Edmonton's pilot project, Quan said there have been only a smattering of complaints from neighbours worried about messy coops, predators like foxes or coyotes, and what to do if a chicken flies into their yard.
Some 20 city sites were approved for the year-long trial, mostly residences with anywhere from two to eight chickens (no roosters). Restrictions were in place for coop size, waste disposal and inspection by peace officers. "There's momentum now, given the recent approval of keeping bees," Quan said. "After we go to Council with the results from the urban hen pilot, I suspect this will pass—there's a huge vibrancy around urban agriculture and the local food movement, and we have a progressive council."
Red Deer Rules
After a couple of years piloting the project, Red Deer is now a year along with a new bylaw permitting urban chickens. A $28 renewable yearly license allows city residents to keep up to 4 backyard chickens with certain regulations: a coop must meet standards in size, floor space, sanitation and safe construction to deter predators, and hens must be provided with an outdoor enclosure of bare earth or vegetated floor. As well, hens can't be slaughtered or sold, and those that die must be removed to a specified farm, veterinarian or abattoir.
"In our first year, we've only had one complaint, which related to the number of chickens in a yard," said Erin Stuart, acting inspections and licensing manager with the City of Red Deer. "Most neighbours report that they're not even aware that there are chickens next door."
Red Deer currently offers one license per 1,500 people (or about 65 licenses in total). All licenses are spoken for, with residents on a wait-list, but Council will revisit the issue as demand warrants, according to Stuart. To address the growing interest, a local group called Cluck (Canadian Liberated Urban Chicken Klub) is suggested to residents as a good place to get information on how to keep urban chickens, take a course or tour a coop.
Adopt a Chicken
What about getting the benefits of just-laid, fresh eggs without the cost, mess and hassle of feeding the birds and cleaning a backyard coop? Get on the waiting list at the University of Alberta Poultry Research Centre (118 Street & 60 Avenue South Campus) where, for $150, you can 'adopt a girl' and get a dozen fresh eggs every two weeks for the ten-month (November to August) season.
"Some people just want the fresh eggs, but many also want to support diversity. Our Adopt a Heritage Chicken Program promotes the conservation of unique breeds—we have 400 subscribers and 400 more on a wait-list," said Agnes Kulinski, Business Director of the Poultry Research Centre. "Some of our subscribers used to be farmers and they're sentimental about keeping chickens. While they know what it takes, other urban folk often need an education."
All of the Centre's 1,500 chickens are free-run, living in barns with scratch areas, perches and nesting spots—no cages. Subscribers can even name their adopted girl, chosen from heritage breeds including Plymouth Rock, Light Sussex, New Hampshire, White Leghorn and Brown Leghorn.
Kulinski and her team have prepared a manual on backyard chickens that will soon be available for uploading. As well, the Centre holds workshops about heritage breeds, and how to keep a chicken through an Alberta winter. "You have to think about lighting so the hens will lay eggs and even the need to heat water dishes so water doesn't freeze," she said. "Some breeds are friendlier than others, some are louder and some fly (but only a few feet off the ground). You need a six-foot fence and even a fenced roof to keep coyotes, foxes and big birds away," she said.
Costs to Consider
If and when St. Albert approves a pilot project on backyard chickens, there's much to consider for those who want to make a hen part of the family. And that is often what happens, experts say. The chicken may be there for the eggs she provides, but family members quickly become attached to the birds, who are social creatures that like to play and interact with each other.
Since many chicken breeds live around 8 to 12 years, it's wise to look for a breed you'll want to have around. Sussex, for example, are a friendly breed, while Leghorns are known to avoid human contact—even attack.
"I remember being chased by Leghorns as a girl," said Kulinski.
And while many want to buy that cute and cuddly chick when it's just a day or two old, that chick needs round-the-clock heat of about 32˚C, with the temperature slowly reduced each week as it grows, experts say. It's only at about four to six months of age that hens may be ready to start laying eggs, and while they can lay for a few years or over a decade, that also depends on their breed and living conditions.
Safety issues for you and your chicken will come into play, too. The chance of getting avian flu is low; more likely is infection from salmonella bacteria, which can spread from feces. Chickens have also been known to confuse eyes and freckles as morsels to peck, so getting too close isn't advised. And watch out for scratches from the bird's sharp talons.
So, with all that, why the cultural yen for a backyard bird? American urban farming advocate and writer Novella Carpenter, who spoke in Edmonton recently about her experience in creating a garden and farm in her city backyard (now with chickens, bees and a fruit orchard) said this: "It's the movement of my generation. We won't solve all the world's problems with a garden or chicken in the yard. But we want to be connected—part of the big picture. There's a social, physical and therapeutic benefit to pulling a carrot out of the dirt, or scattering feed to the chickens. We will continue to see an explosion of those who look to the yard for all these reasons."
The Poop on the Coop
So what about that coop? People buy them online, build their own with lumber and chicken wire or order customized modular units. The cost can range from a few hundred to a few thousand dollars for a posh palace, but whatever the housing, chickens need plenty of space to avoid confinement stress. Other costs include a brooder, heat lamps and lighting, straw and bedding, feed and the minimal cost of the chicken itself.
Addendum, for reprint
In September 2016, the City of St. Albert approved an 18-month pilot project. The program allows up to 20 households to raise a maximum of four hens, provided all neighbours within 60 metres give their consent. The hens must be at least four months of age, and owners must keep them in coops from 9 pm to 6 am and in enclosed runs the rest of the time. As well, the hens can't be slaughtered at home or raised for commercial purposes. The third and final City inspection took place in April 2018, with the project expected to wrap up in May or June. An open house will follow shortly after to discuss the project's results.
Edmonton and Red Deer's urban fowl have been doing well. In 2016, Edmonton expanded its original project to allow 50 coops. City officials found that most owners had done a good job looking after their chickens, with only a few winter weather-related issues arising. Meanwhile, a March 2017 bylaw amendment in Red Deer raised its cap on annual licenses from 67 to 100, as demand for the permits continues to grow and only a few complaints have been made. t8n
Article originally printed December 2015, updated April 2018.
Fowl Facts
Did you know that chickens have a great memory and can distinguish
between over 100 different faces?
There are over 25 billion chickens in the world—more than any other bird.
A hen can lay more than 300 eggs a year, though it's the amount of
light that makes a hen lay eggs.
To make a dozen eggs, a hen has to have about 4 pounds of feed.
Each chicken sound means something