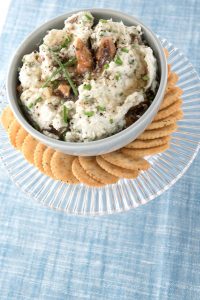 Figs and blue cheese pair perfectly on a cheese board and are even better when melted and warm.
1 cup cream cheese, softened
1 cup blue cheese, crumbled
1/2 cup mascarpone cheese
1 cup dried figs, chopped
1 clove garlic, minced
1/4 cup chopped walnuts
2 tbsp honey (plus extra for drizzling)
1 tbsp chopped chives
1 tsp freshly cracked black pepper
Preheat your oven to 375˚F, and lightly butter an oven-safe ramekin or small bowl. Next, place all the ingredients in a bowl, and mix until combined. Transfer the mixture to the prepared ramekin, and bake in the preheated oven for 15 to 20 minutes. Serve with your favourite crackers or bread.