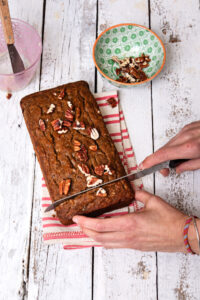 Think banana bread won't be amazing with rye flour? Think again, this recipe delivers a moist, slightly tangy banana bread experience! Feel free to sub out the nuts and go with the always classic chocolate!
¼ c. unsalted butter, melted and cooled slightly
4 very ripe bananas, mashed
1 egg, beaten
½ c. brown sugar
1 tsp. vanilla extract
1 ½ c. rye flour
1 tsp. kosher salt
1 tsp. baking soda

⅓

c. pecans, toasted and chopped

Preheat the oven to 325°F. Line and grease, either with cooking spray or butter, a loaf pan.

In the bowl with the mashed bananas, add in the sugar, vanilla, and beaten egg and whisk to combine. In a separate bowl, combine the flour, salt, baking soda and pecans. 

With a wooden spoon, stir the dry ingredients into the wet mixture until combined. Then slowly add in the melted butter and stir. 

Pour this batter into the prepared pan and bake for 45–55 minutes until a skewer comes out clean when inserted.
Let the loaf cool in the pan for 10 minutes and then cool the rest of the way on a wire rack. Slice and enjoy!