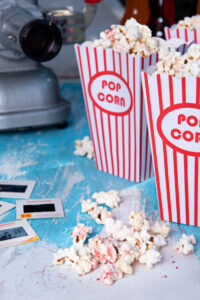 Kettle corn is yummy all on its own. However, adding in a mixture of lemonade powder and crushed freeze-dried raspberries elevates the sweet and salty of kettle corn and adds in a hit of pucker power!
Line a large baking sheet with parchment paper and set aside.
⅓ c. un-popped popping corn
⅓ c. avocado oil
¼ c. white sugar
1 tbsp. lemonade powder
(not sugar-free)
1 tbsp. crushed freeze-dried raspberries
2 tsp. kosher salt
In a small dish, combine the lemonade powder and the crushed freeze-dried raspberries and set aside.
Place the first three ingredients in a hand-crank popcorn maker (alternatively, you can buy microwave kettle corn to skip this step!). Over medium heat, keep turning the popcorn until all the popping has stopped and remove from heat immediately.
Pour the kettle corn into a bowl and sprinkle the lemonade/freeze-dried raspberry mixture over top of the hot popcorn and stir to combine. Continue to stir until not much of the lemonade mixture is left at the bottom of the bowl. Toss in the kosher salt and do a final stir.
Spread the popcorn onto the lined baking sheet and let cool completely.