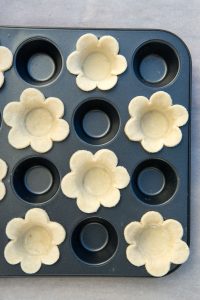 These adorable tarts are as easy to make as they are to eat—one right after the other.
1 package frozen, premade pie crust, thawed
2 cups of your favourite store-bought lemon curd
1 tbsp freshly squeezed lemon juice
Zest of 1 lemon
Powdered sugar, to garnish
Preheat your oven to 425˚F, and take out 2 mini muffin pans. Next, on a floured surface, gently roll out your premade pie crust, and with a floured 4-inch, daisy-shaped cookie cutter, cut out 12 daisies.
Nestle the daisies into every second muffin cup, draping the petals up the sides and over the edges. Prick the bottoms with a fork, and bake the pie crusts in the preheated oven for 5 minutes. Cool them in the pan for 5 minutes, then remove to a rack to cool completely.
In a small bowl, mix together the lemon curd, lemon juice and lemon zest. Next, dust the petals with a generous sprinkling of powdered sugar, fill the centres with big dollops of the lemon curd, and serve.