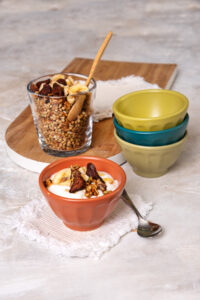 Buckwheat groats are the hulled seed of the buckwheat plant. They are crunchy and add a fun twist to a typical granola recipe along with added nutrients!
Preheat oven to 300°F. Line two baking sheets with parchment paper. 
1 ½ c. rolled oats
½ c. buckwheat groats

⅓

c. Pumpkin seeds
½ c. hazelnuts, skinned
½ c. chopped dates
¼ c. chopped dried strawberries
¼ c. crushed banana chips
¼ c. ground flaxseed
½ tsp. kosher salt
¼ c. avocado oil
¼ c. date syrup
½ tsp. vanilla
Whisk together the oil, date syrup and vanilla and set aside.

 
—

In a large bowl, stir together the oats, groats, pumpkin seeds, hazelnuts, salt and flaxseed. Chop the dates and strawberries and crumble up the banana chips and set them aside.

Pour the wet mixture into the dry mixture and stir to coat. Spread out the oat mixture evenly over the two baking sheets. Bake for 25–30 minutes, stirring once at the halfway point. Let cool completely without stirring to allow for clumps to form.

Add in the dates, strawberries and banana chips and store for up to two weeks in an airtight container.