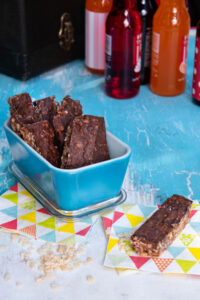 Rice cereal treats are a nostalgic snack item that lends itself well to new techniques and different add-ins other than the traditional marshmallows. This recipe browns half of the butter first and uses a classic chocolate bar to hold everything together. Sweet, gooey and crispy—a delicious, reinvented rice crispy treat.
Line and spray an eight-inch by eight-inch baking pan and set aside.
2 c. crispy rice cereal
⅓ c. butter, split in half
4 Mars bars, regular-sized chocolate bars,‌ chopped
¾ c. semi-sweet chocolate chips
1 tbsp. Maldon sea salt
In a medium saucepan over medium/medium-high heat, add in half of the butter. When brown flecks appear and the butter smells nutty, pull the pan off the heat and set aside to cool slightly.
In a large pot over medium heat, add the other half of the butter and the chopped chocolate bars. Stirring the mixture every few minutes, the butter should melt along with the chocolate and nougat of the chocolate bars to form a caramel-like substance. Pull the pot off the heat and add the crispy rice cereal and the cooled browned butter. Stir to combine everything together evenly.
Scoop mixture out of the pot and place into the prepared baking sheet. Using either a spatula or your fingers, press the cereal mixture evenly throughout the pan.
Sprinkle the chocolate chips over top. Under the broiler, set on high, melt the chocolate chips, 35–40 seconds. Using an offset spatula, spread out the melted chocolate to cover all areas of the cereal underneath. Set aside for
30 minutes and then sprinkle the top with the sea salt.
Finish cooling, slice and enjoy! These bars also freeze well, so can be made ahead of time.