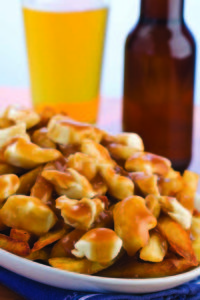 The story of this signature Canadian dish begins with its quixotic invention in 1950's Quebec and continues to be shaped by a variety of multicultural influences. Some say there's only one way to make it—fries, cheese curds and gravy—but here are eight celebration-worthy versions that beg to differ. To each their own—poutine!
Canadian Brewhouse
Around 2002, this Alberta chain seemed destined for dive-bar status. But when the company undertook a major image overhaul, refabbing its restaurants and completely overhauling its menus, Canadian Brewhouse emerged with one of the most impressive selections of food and drink of any chain on the market. And that includes their multitude of poutine selections—seven, to be exact. We tried the braised-beef version hoping that you couldn't go wrong with tender, slow-cooked beef and a little BBQ sauce topping off a soup of gravy, cheese and fries. We were right. The perfect drink pairing? Two words: Osoyoos Caesar.
Delux Burger Bar
It's not unusual for bars to serve poutine, but Delux Burger Bar at The Shops at Boudreau in St. Albert serves one of the best-looking and most generously sized versions around. The gravy, of which they are certainly generous in offering, has great flavour, though (if you're going to be picky) is not as hearty as the competition's. What can't be beat? Chasing it down with a $5 draft while catching a Jay's game on the big screen.
Dixie Lee
A fried-chicken chain in eastern Canada since the 1960s, Dixie Lee established an Edmonton beachhead in 2016 with its Whyte Avenue location. Ringers in the poutine sweepstakes, Dixie Lee even does something that westerners don't: they call gravy "poutine sauce."
Served in a metal bowl, with crisp, fried potatoes, seemingly unmeltable cheese curds and just enough gravy—whoops!—"poutine sauce." In fact, they seemed to know, down to the nanolitre, exactly how much sauce to use. If you are a transplanted Easterner, chances are you'll love this place.
Goldrush Eatery
Some people insist that poutine be made with cheese curds. But not at the Goldrush Eatery. Located in the Standard Life Centre in Edmonton since 1982, Goldrush uses shredded cheese to produce a formidable poutine. Gravy can be like nectar of the gods, and Goldrush has come close to crafting their own version. It's salty enough to hit the spot, but not so much that you need to chase it with litres of water. The shredded mozza virtually liquifies into the gravy, creating a sumptuous pool of deliciousness. If the word poutine does mean "mess" in French slang, Goldrush wins the prize for the most accurate representation.
Jack's Burger Shack
Founded in Slave Lake in 2012, Jack's Burger Shack relocated to its current Perron St. location in 2013 and has since expanded into Edmonton. Given that co-owner Tu Le was featured on an episode of Chopped Canada last year, it's no surprise that the food is tasty and thoughtfully prepared. Their gravy is rich, hardy and flavourful, and they stay true to the origins of the dish by using cheese curds. The more adventurous might want to double down by pairing this with their Quebecker burger, which uses poutine as the sandwich's main topping.
Jack's Drive-In
A Spruce Grove landmark dating back nearly 60 years, Jack's Drive-In matches Tim Hortons in drive-thru-line insanity. In fact, by 2 p.m. you can expect to see vehicles snaking well out onto the adjacent frontage road. This is a sign of success, and poutine is part of the equation. Jack's version opts for shredded cheese, and while that doesn't follow the traditional canon, it makes for a respectable and resolutely messy version. In the (unlikely) chance you've never heard about Jack's multi-flavoured soft-serve ice cream, you'll want to make sure you leave with some of that, too.
La Poutine
Looking to step outside the chain shop experience? La Poutine, located in Edmonton since 2011, is the place to go for traditional poutine, as well as inspired versions you won't find other places. We settled in for a creation that subs in chili, sour cream and chopped green onions. Simple, scrumptious and reminiscent of "Texas Fries." Come here if you're craving the unexpected.
Simply Donairs
This Mediterranean diner with a misnomer for a name—there's more to their menu than donairs—is located at 388 St. Albert Trail, and they know their way around poutineland. Simply the best taste and value of all the joints reviewed here. A small sized donair poutine—we'd hate to see a large—included tomatoes, onions, donair meat and sweet sauce—in addition to—the standard gravy and cheese. C'est vraiment magnifique. This place had a lineup going the entire time. One taste and you'll know why. t8n