The community of Pineview was built during the tail end of St. Albert's population boom, when the need for new houses was slowing down. So, whereas the primary concern of developers in years prior had been to keep up with the insatiable housing demands, Pineview's planners could afford a slower pace, which allowed for meticulous, long-term planning. That luxury is exactly why Pineview, despite being one of the smallest residential districts in the city, is now known for its scenic neighbourhoods, spacious parks and beautiful conifer-lined streets. Here's how it grew to be.
1970s
When the Pineview development was first proposed, St. Albert was still in the middle of a population boom, and extensive residential expansion was a top priority. But by 1975, city planners realized that though the demand for new housing wasn't disappearing, it was beginning to slow down. As a result, Pineview doesn't have quite as expansive a footprint as some of the neighbourhoods built in the 60s.
It was 1979 when construction finally took hold in Pineview, and the houses, parks and winding streets began to replace the empty fields that once marked the area. But since space was already at a premium in St. Albert, developers left a few pockets of land in Pineview for future planners to play around with, just in case the need for more schools, parks or a commercial district arose. In fact, despite having neighbouring communities on all four sides, those thoughtfully planned pockets meant that Pineview still had room to develop.
1980s
As the Pineview area slowly changed from farmland into residential neighbourhoods, the Greater St. Albert Catholic School District acquired the western corner of the area and began construction on two new schools that would help develop the emerging French immersion program in the district.
First was the elementary school, École Marie Poburan. The school was named for the Catholic school board administrator who was largely responsible for getting the French immersion program off the ground in St. Albert. If you've ever wondered why residents of St. Albert have so many options when it comes to French education, Marie Poburan is who you have to thank.
Directly across the parking lot from Marie Poburan sits École Secondaire Sainte Marguerite d'Youville. In keeping with
the French theme of the area, this junior high/high school was named in honour of Marguerite d'Youville, who was both the founder of the famous Grey Nuns of Montreal and the first Canadian to be honoured as a saint by the Catholic Church.

2000s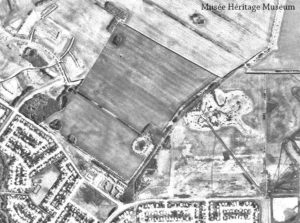 Those familiar with Pineview will know of the large parcel of empty land that sits along the southern edge of Poirier  Avenue. This area has been under heavy consideration by the city since 2002. It's not quite developed enough to be called a park—but a little too empty to be called a natural area. The truth is that the land was cleared for development during the early 1980s, but the development never came. It's officially classified as an "Urban Reserve," and city planners are waiting until there is a great enough need for development. There isn't a lot of room left in Pineview, so whatever ends up being built in this space has to count, whether it's residential housing, a school or a commercial district. However, as the land has been vacant for almost 40 years now, there is clearly no urgency in deciding.
Today
Today Pineview is home to about 1700 people, spread throughout 664 homes. There is still room for growth, of course, but just like in the 1980s, the neighbourhood is in no rush to grow. Most of the vacant lots have been filled in with parks, wooded walkways and community sports fields, which are enjoyed by young athletes from all over the city. The next time you're out for a walk or a bike ride, or when you're on your way to Servus Place, try taking a detour for a short stroll under the canopy of the pines.  t8n
Fun Fact
When it came time to name the development, Pineview was the only proposal that was really considered by St. Albert's city council; it is appropriate given the foliage of the area.
Did You Know?
In the mid-2000s, official zoning plans were drawn up to finally fill Pineview's last empty plot with additional residential streets. That area, however, remains empty to this day.