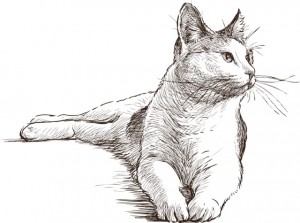 Few things feel better than spoiling someone we love, and our pets are no exception. Though treats of a caloric nature need to be rationed responsibly, the love and comforts we offer can be unconditional. From the practical (poison-control info apps) to the not so practical (Instagram for dogs), there is no shortage of options on the market. Here are eight that got our tails wagging.
Wholistic Dog—If you've never visited Wholistic Dog in St. Albert, you are missing out on a treat. This independent business located in the Tudor Glen Market is a great place to hand-pick a selection of all-natural cookies and biscuits from their bakery section or their prepackaged food section. Family run, Wholistic Dog is also a great source of friendly advice for anyone who has pets with food allergies or sensitivities. Treat yourself to a visit.
Caring for Wild Birds—Providing birdseed to your feathered friends during the winter can help them out when heavy snowfall makes their food sources more scarce. But you can also help them by landscaping with plants that hold their fruits and seeds: ornamental crabapples, highbush cranberries, mountain ash, ornamental grasses and dogwood are all great sources of winter bird food. If it's yellow finches you're after, try filling your feeders with nyger seed in the spring.
Pet Subscription Services—Who doesn't love a surprise in the mail that isn't a bill. Thanks to subscription services such as BarkBox, MeowBox, PetGiftBox and My Aquarium Box, our pets can enjoy subscriptions, too. How it works? Pretty much like you'd expect: do your research, choose your service, customize your selections and enjoy monthly treats that arrive at your door. As with everything, it's buyer beware, so look for services that take health and safety seriously and that make it easy to reorder products your pet liked and replace the ones they didn't.
Pet Apps—Need to find a hotel that allows pets? There's an app for that. In fact, there's an app for just about everything pet related. Here are a few favourites:
BringFido helps you find and book pet-friendly hotels when travelling with your dog. Search by distance, popularity, rating or price, as well as by what parks, restaurants and attractions are nearby. A great source for user reviews.
APCC by ASPCA helps you determine if what your pet just gobbled is safe for them. Created by the American Society for the Prevention of Cruelty to Animals, this Animal Poison Control app is basically a toxicity database that can help you determine what to do if your cat, dog, bird or horse ingests something you hadn't intended them to eat.
Bark Cam is basically Instagram for dogs. The hook? It has built-in sound effects that encourage your pet to perk its ears and look up just as the photo is being snapped. Clever, indeed.
Wipe Your Paws Coin-Operated Pet Wash—Washing your pet just got easier. Or at least the cleanup did. How it works? Head down to Tudor Glen Veterinary Hospital's pet-wash station at Tudor Glen Place, and bring loonies. Just like at a carwash, the shampoo and conditioner are automatically added to the water, and the vet hospital will even let you borrow a towel. Visit www.tudorglenvethospital.ca for more info.
Homemade Peanut Butter Suet—Like most recipes that call for peanut butter or fat, this one is ideal for winter, as it won't melt and become messy. Making it's pretty easy:
Place 2 cups of shelled, unsalted peanuts in a food processor, and whirl them until they are the consistency of peanut butter. Transfer the mixture to a large bowl, and stir in 3/4 cup of raisins and 1/4 cup of cornmeal. Form the mixture into a ball, wrap it in an open-knit bag and hang it from a tree with a view from your window.
Pet Portraits—If you remember our August 2015 issue, you'll recall our interview with illustrator Gloria Ho, who "bearified" Mayor Crouse for our cover. That trend, and animal portraiture in general, is definitely gaining momentum. To view galleries of Gloria's traditional and non-traditional portraiture, you can visit www.gloriaho.ca, or check out our interview with her at www.t8nmagazine.com.
SCARS—You don't have to own a pet to be good to one. Non-profit rescue organizations, such as SCARS (Second Chance Animal Rescue Society), are always grateful for donations of time and money. With a focus on animals that are abandoned or slated for euthanasia at municipal pounds, SCARS collect unwanted dogs and cats, mostly from communities in northern Alberta, all of which are given medical assessment, treatment and are spayed/neutered, vaccinated and micro-chipped. You can find some of their adoptable animals at participating Pet Valu locations, as well as online at
www.scarscare.ca. Want to learn more? Check out their programs for becoming a foster family, volunteer, member, corporate partner or forever home. t8n