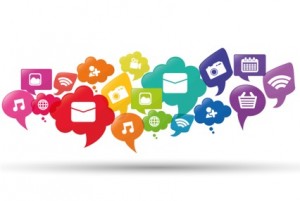 Winter has a peculiar way of shifting gears after the holidays. You know the feeling. The highly anticipated presents have all been opened and explored, and even though the memory of Mum's buttery turkey still lingers in our minds (and on our waistlines), we suddenly realize that the twinkly snow we loved at Christmas now needs to be scraped off windshields and shovelled out of driveways for months. It's no coincidence that the high season for travel runs until April, and these six apps are here to help you on your way.
Evernote—Eliminate cross‑platform chaos
Welcome to the mother of all organizational tools. This multi-functional app lets you sort files and emails, write notes and journal entries, scan and track receipts….the list goes on.
What it is: Users store information in private or shared folders where they can add text, audio files, pictures and scans, documents of all types—even parts of web pages.
Who it's for: The organizationally challenged traveller and anyone who wants to keep all their trip-related information in one place.
Why it's special: Evernote's powerful search function can identify text even in picture files and PDF documents, so it takes seconds to find whatever information you need. Saving everything to the app, which syncs across all devices, eliminates the need to search through emails, tablet notes, computer bookmarks, Pinterest boards or phone screenshots.
What it costs: The basic service is free to users. Evernote Plus ($28.99 US/year) and Premium ($57.99 US/year) accounts have more features and include more data.
Maps.Me—Hope for the internet-impaired
Poor connectivity is no longer a problem with these off-line maps, which feature navigation, zooming and pinning functions that work just like their online competitors.
What it is: Detailed downloadable maps that include information on hotels, restaurants, hospitals, banks, gas stations and more. Download maps with or without routing capabilities, and delete them when you no longer need them. File sizes are listed with each download.
Who it's for: Anyone travelling to an unfamiliar location, especially areas where Internet connections are sporadic or expensive.
Why it's special: Since the maps are downloaded right to your phone or tablet, they are accessible offline and don't incur expensive roaming data costs. The app's navigational functions work anywhere a GPS signal can be picked up.
What it costs: Free to all users.
Sworkit—a.k.a, Work it!
No gym? No problem! Strength training, cardio, yoga and stretching routines for travellers on the move.
What it is: An exercise app that customizes workouts based on the time you have available, the body part you want to train and the type of exercise you prefer.
Who it's for: The active business traveler or vacationer who wants to squeeze in a few minutes of exercise between trips to the poolside mojito bar.
Why it's special: The exercises require only your own body weight, so you can work out anywhere and don't need to pack any special gear. You can tailor workouts to your specific needs, or download a variety of ready-to-go routines. There's also a version that offers interactive fitness games for kids.
What it costs: Sworkit Lite and Sworkit Kids are free. The Pro version offers more features and costs $5.24 for Android and $2.29 for iOS.
Gasbuddy—Gas guzzlers, rejoice!
This handy app helps you save money on gas, so you can spend more on your vacation.
What it is: Users report gas prices, which are listed with the gas station's name, address and distance from their current location. Search for gas by price or location.
Who it's for: Budget-conscious travellers within Canada and the United States.
Why it's special: The app offers a points system to encourage users to report current prices. There are daily and weekly challenges that help users win more points (e.g. "Post four diesel prices on five of the seven days this week and earn 2500 points"), which can then be used to enter the daily $100 gas giveaway.
What it costs: Free to all users.
Tripit—Keep your trip at your fingertips
Keep track of all your comings and goings with this interactive itinerary app.
What it is: Tripit uses your reservation confirmation emails to create a comprehensive travel itinerary that includes flights, accommodations, car rentals—even restaurants. Edit your itinerary as you like, creating notes or adding photos and links.
Who it's for: Multi-destination travellers with full schedules or anyone who just plain loves the look of a well-organized itinerary.
Why it's special: The app incorporates important dates, times and confirmation numbers so you don't have to go searching through your inbox for an email received months ago. Share your itinerary publicly or with a select group, and view past trips any time you like.
What it costs: The basic version is free for mobile users. Tripit Pro costs $49/year (US) and offers more features.
Google Translate—Breaking down global barriers
Any traveller who's ever been desperate to find a bathroom in a foreign country will appreciate this app, which can translate basic sentences in up to 90 languages.
What it is: Translate by typing, speaking or taking pictures of text with your camera phone. Downloadable language packs that can be used off-line are available, with mixed reviews about their overall effectiveness.
Who it's for: Anyone travelling to a foreign destination, particularly if it's off the main tourist track.
Why it's special: While this app has its limitations—translating individual words or short phrases appears to work well, but complex conversational sentences can be inaccurate—it can certainly help you with the basics, such as ordering from menus, buying bus tickets or checking into a hotel.
What it costs: Free to all users. t8n
Fight or Flight
Cheap flight provider CheapAir.com estimates that the best time to book a domestic flight is 47 days before travel (unless travelling in peak season). They recommend avoiding last-minute deals since prices almost always spike at that time. Booking too early can also cost more because newly listed fares start at a higher price point.
World Music
Looking for something fun to do on your travels? Live-music lovers around the globe can sign into pollstar.com and enter their location for a comprehensive list of live acts on any given date. Search for events by artist, venue or city, and buy tickets directly through the site.