Carol Donald is in her studio going over what materials will make their way into her latest mosaic project. It's an eclectic array of stuff that includes metal strips from an old printing press, tools from England that are more than half a century old and pieces of glass from a window that was the casualty of a break-in. As for what will make the cut, there's no manual that offers yea-or-nay advice to a creative working in with these items; intuition and an experienced eye are usually enough.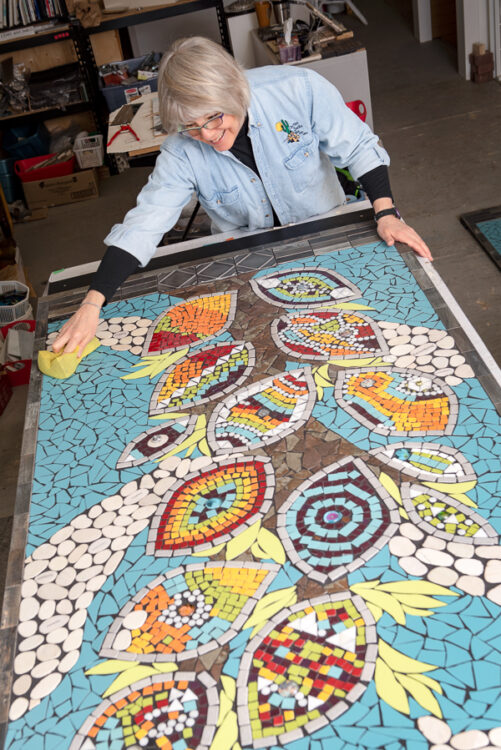 "It will either appeal to me and fit into a piece I'm working on or I'll just set it aside to use in a future project," says Donald, who's been running her own interior design company WowFactor Mosaics for more than five years.
The space is where Donald redesigns clients' home interiors with a variety of found objects in almost every form you can imagine. Glass, stone and reclaimed tile are most common items that go in finished products like backsplashes, staircase rises, walls and even a mannequin that have become canvases for her talent.
And while the pandemic has put the brakes on a few endeavours from workshops and school appearances to a canceled showcase at the Art Gallery of Alberta, Donald still has enough motivation and stuff around her to keep busy. She's not alone, having witnessed other households opting to do crafts during lockdown.
"People are spending more and more time at home," says Donald. "Being creative is good for your mental health and it's just a very positive thing to do for yourself."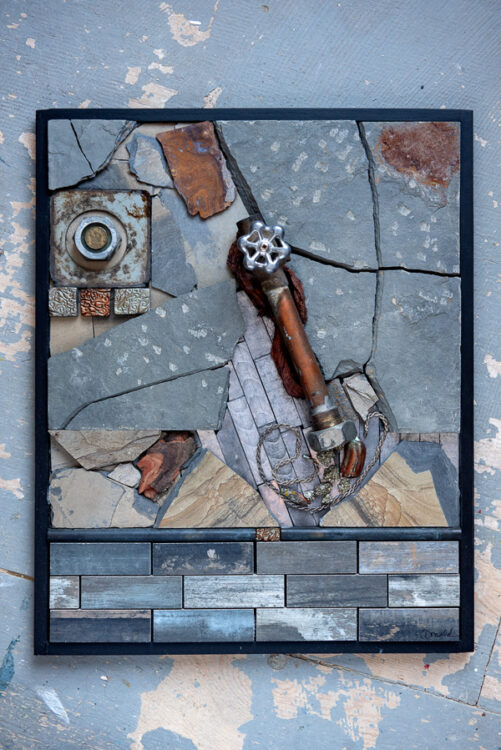 In Donald's case, the chance to be creative and entrepreneurial has been a positive life-changer. A university graduate in art history and interior design, she's worked as a painter, printmaker and a salesperson for a number of companies, including a tile shop. "I thought I'd give it a try," she recalled. "So I started making mosaics when I took home scrap tiles and worked on that."
That's where she took home tile scraps to work on her own designs until she gathered the muster to start her own company. It wasn't long before she felt she had enough of a background to go at it as what she calls a semi-retirement venture.
As for the name, that came from feedback via friends and family who saw her first solo project: a bathroom wall and vanity countertop. "Wow" was the universal response. "Okay, don't overthink this," Donald remembers telling herself at the time. I probably have a good thing going with the name."
These days she treats WowFactor Mosaics like a job working on projects for residential and commercial clients, even though she finds it to be more of a great outlet for her creativity. She shows up at the studio between three to four hours a day, sharing space with other artists in what she calls a positive working environment.
As for all those items on her desk, she'll likely find enough inspiration from them to help her decide what will be a fit for whatever she's working on at the time. But she also hopes the end result will be the same: a reaction from her clients that's every bit as amenable as the time she put into creating what they requested.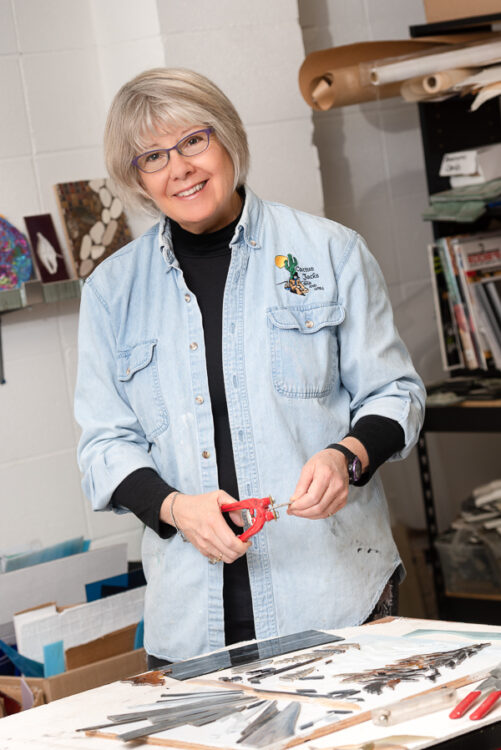 "I want it to be something for people to see and go 'Wow, isn't that nice?"
But whether she's working on client pieces during those boom times or puttering in the studio during a pandemic, there's always a positive aspect regarding how she bides her time."That's the upside in being creative," says Donald. "You can always seek solace in your work."
WowFactor Mosaics
33 Rayborn Crescent, St. Albert