Imagine having a few rehabilitation partners with hooves. In this case, there's a palomino named Ali Cat, an appaloosa mare dubbed Angel, a quarter horse that answers to Big and a chestnut gelding called Caffi – also known as Caffi Latte. No horsing around here, as these equines are recognized as bona fide therapy quadrupeds at the Little Bits Therapeutic Riding Association.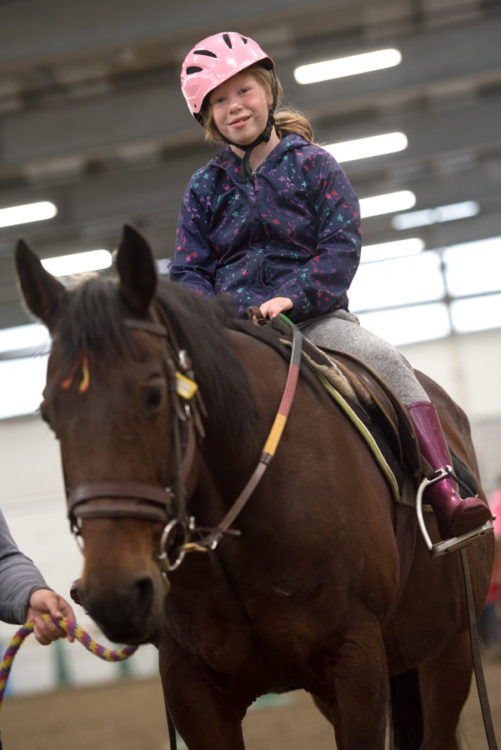 Located at the Whitemud Equine Learning Centre Association just off Fox Drive in Edmonton, Little Bits gives people with disabilities the chance to take part in recreational riding programs. And while riding a horse through the natural beauty of the city's river valley can be a rush in itself to most of us, Little Bits strives to help disabled patrons saddle up to develop their independence, physical well-being, ability, confidence, and riding techniques. The not-for-profit organization doesn't take the element of fun out of the equation, either. Far more relevant are the positive changes that participants, parents and staffers discover among those taking part in the program.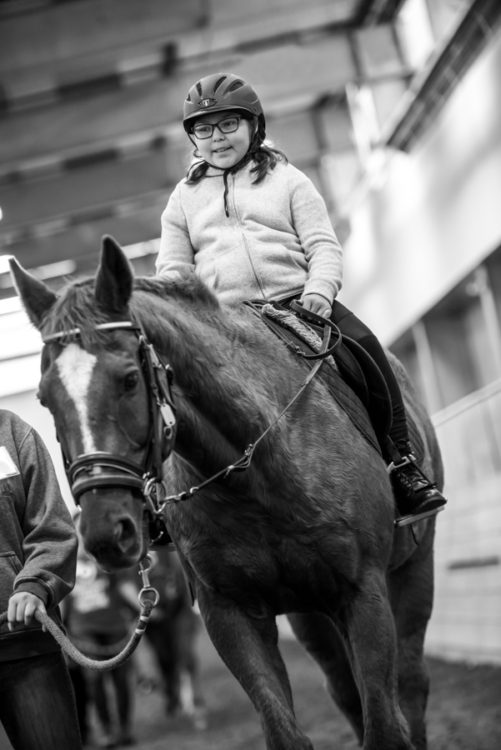 "Shy riders have developed a sense of themselves and are better able to express themselves to family and friends. Many parents comment on the increase in muscle tone, trunk control and strength when speaking of their children," says Linda Rault, the riding program administrator with Little Bits.
"Children on the autism spectrum are encouraged to use words and touch the horse and all riders are expected to use socially appropriate behaviors when riding."
The idea for Little Bits came about in 1972 via the minds of Willa Lundy and Myrtle Leadlay, after Lundy visited London, England where her daughter was working with a therapeutic riding program. Lundy became enthusiastic about launching a similar program in Edmonton. Once back from England, Lundy, Leadlay, and a few other like-minded individuals started working out those possibilities with the Edmonton Parks and Recreation Department. In 1975, they received a grant from the provincial government to fund the training and certification of riding instructors, the purchase of safety equipment, and the rental of lesson horses and a riding facility.
Little Bits, which also subsidizes half the rider costs through fundraising, has grown from 36 original riders in 1975 to the current 165. Thanks to the new climate-controlled facility, programming can now take place in the winter. All of the organization's instructors are certified by its governing body, the Canadian Therapeutic Riding Association.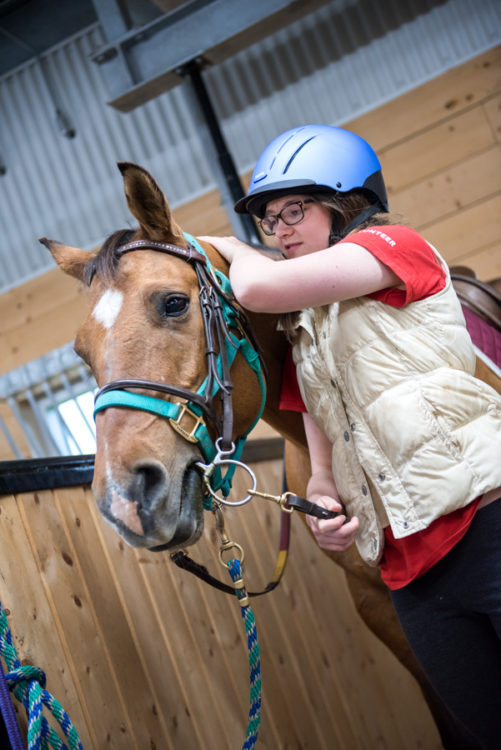 For their part, the therapy horses are also well-trained with a few of them possessing some extraordinary skills. There's Dancer, who helps keep fidgety riders calm, and Gemini, who adapts to riders who have trouble mounting a horse the traditional way. Because of the groundwork and the general allure of horseback riding, the program is so successful that some placements may take more than two years. t8n
Little Bits Correspondence: (780) 476-1233, [email protected], littlebits.ca
"For a person with a disability, (riding) provides a sense of normalcy and the opportunity to take a risk," says Rault. "It can be highly motivating, gives confidence, and independence. The benefits can be physical, social, emotional, cognitive and spiritual individually and collectively."