You could say it's been a long winter for St. Albert movie-goers. But now, the wait for a cinema complex in this city is finally nearing its end. Landmark Cinemas 8 St. Albert is scheduled to open soon in Jensen Lakes Crossing, where it will be an anchor and one of the first tenants to set up shop. "The current schedule will have us open in the spring," says Bill Walker, Chief Operating Officer of Landmark. "Ideally, we will open in March 2018."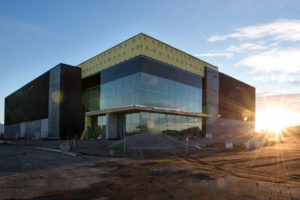 The new cinema promises a VIP experience that's worthy of your living room. It will also be the first Landmark cinema to come fully equipped with reclining seats. Those seats, which look and feel just like living-room recliners, will reduce seating capacity by 60 percent, according to the company's website, and that's good news for movie-goers. Fewer people in front of each screen means more room for each person. With any luck, it will also mean fewer latecomers tripping over you and your popcorn as they try to get to their seats.
Besides seats you can fall asleep in when a movie isn't so good, Landmark will also offer reserved seating at no extra cost. Like the reclining seats, the idea is to bring the comfort and ease of home into the theatre. In other words, no more line-ups or searching in a dark, crowded movie theatre for a block of seats that'll allow you and your friends to sit together. You'll be able to reserve those seats online, in person or by using the Atom ticketing app.
"Recliner seating, combined with our reserved seating, eliminates many of the negative elements of movie going," says Walker. "We're confident this will enable customers to attend the movies more frequently."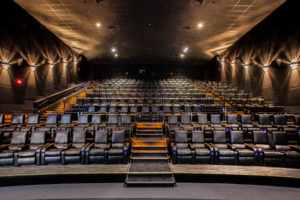 But what's all this convenience and comfort going to cost, you might be asking? Well, according to Walker, ticket prices "will be aligned with the General Admission price for movie theatres in Edmonton" (between $11.50 and $13.50).
Why has Landmark chosen St. Albert? A big reason, obviously, is the lack of a cinema here. "We chose Jensen Lakes Crossing because the community of St. Albert is underserviced when it comes to movie theatres," says Walker. No kidding! With the Cineplex Odeon at Village Tree Mall shutting down in the early 2000s and Grandin Theatres following suit in 2014, St Albert's 60,000+ residents have felt the absence. While the Arden Theatre occasionally shows films, and the Friends of the St. Albert Public Library hosts its Reel Monday series (also at the Arden), having a third option will undoubtedly please movie lovers here.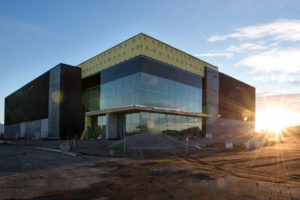 With Landmark on board, Melcor, the Edmonton-based developer behind Jensen Lakes Crossing, hopes to turn the complex into an entertainment destination for the region.
"Having Landmark Cinemas as an anchor tenant… creates a wonderful amenity for the community," says Nicole Forsythe, Melcor's Director of Corporate Communications. "It adds an additional wow factor to an amenity-rich development."
Along with Clark Builders, Melcor is constructing the shopping centre on a 17-acre site along St. Albert Trail in between Home Depot and Costco. It will complement Jensen Lakes, Melcor's huge beachside community development. Walker describes it as "an ideal location for a movie theatre," surrounded as it is by other commercial and residential developments. He also expects that the cinema will help spur further development in the area, bringing in a mix of restaurants and shops. Which brings us to our next question: Dinner and a movie, anyone?  t8n
"A large part of our value proposition is providing more for less. We want to
maintain movie-going as an affordable and attractive entertainment option."
–Bill Walker, Chief Operating Officer, Landmark Cinemas
Landmark Cinemas 8 St. Albert at a Glance
Location: Jensen Lakes Crossing, at the corner of St. Albert Trail and Jensen Boulevard
Opening: Planned for March, 2018
Parent Company: Landmark Cinemas, Canada's second largest cinema chain. Founded in Calgary in 1965 and
headquartered there.
Featuring: Eight auditoriums with 100% reclining seats
Interesting Fact: Landmark was recently purchased by Belgium's Kinepolis Group for $123 million. The chain's 44 theatres will not be rebranded, however.