Living in wintery Canada, it might seem odd to intentionally choose a drink with the word ice in its name. Yet Canadians are snapping up icewine in ever increasing amounts. This favourite, however, isn't like your go-to Cabernet or Sauvignon Blanc that pairs effortlessly with most meals. It's bossy! And pairing its intensely fruity sweetness can take some know-how. That's where we come in. To help you get the most of your investment (it can be pricey), here's a quick look at how it's made and some of the best ways to enjoy it.
Working with Mother Nature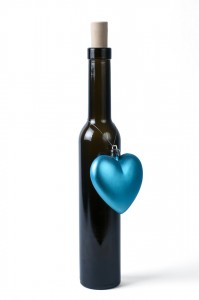 Traditional wine grapes are harvested before the first frost, but icewine makers leave their grapes on the icy vines. It is a fine balancing act because grapes on the vine can be destroyed by birds, disease, mould or rain. Some years, Mother Nature demands her due, and growers get little to no harvest.
As the grapes soak up the last of the late-season sun, they dehydrate. This causes the juices, acids and fruit essences to concentrate and produce the distinctive flavours and texture of icewine. One of the secrets to producing high quality icewine is choosing the right types of grapes to grow: aromatic, highly acidic varieties such as Riesling, white Vidal, Merlot, red Cabernet Franc and Chardonnay are ideal.
It's All in the Timing
The best time to harvest the grapes is when temperatures are around -8C. Once temperatures get this low, the sugars in the grapes become highly concentrated. Typically, grapes for Canadian icewines are harvested between December and February, depending on the location and weather conditions.
For two or three nights, pickers go into the freezing air to harvest the crop by hand. While still frozen, the grapes are pressed under intense hydraulic pressure in an unheated building. The dehydrated, frozen grapes give up little juice—only about 15% to 20% of what normal grapes yield.
Icewine ferments for up to three months and then, depending on the winery, may be aged in barrels. The alcohol content of icewine is typically much lower than traditional wine, and it is much sweeter.
Making Your Selection
Choosing an icewine is similar to choosing a traditional wine. First, you need to know the grape varietal. Since icewines are made from several types of grapes, you can select wines made from your favourites. Second, decide whether to buy an aged wine. Icewine tends to lose some of its sweetness as it ages, and a nuttier flavour emerges. Third, choose your price point. Bottles of icewine range in price from $45.00 to thousands of dollars.
Serving It Up
Icewine should be chilled for one to two hours to reach its ideal serving temperature of 10°C to 12°C. And while icewine can be served as dessert in a glass, don't limit yourself to after dinner uses. You can enjoy the fruity acidity of icewine with some of your favourite foods, such as aged cheeses, scallops, lobster and, since you're indulging, foie gras. Icewine also complements your favourite Thai curries and Creole dishes perfectly. For dessert, have a small glass of icewine with fresh summer fruits, berries and dark chocolate.
Due to its rich sweetness, a little wine goes a long way: a two-ounce serving is enough for most diners. But just because the amount is small, doesn't mean the glass you serve it in should be. Use a white wine glass that allows the wine's aroma to add to the sensuality of the experience.
Don't let its name throw you off. Icewine is the perfect Canadian treat for both pre- and post-dinner visits. Give it a try. t8n
Did You Know?
German vintners in Franconia, Germany accidentally discovered icewine in 1794 when they pressed grapes that had frozen on the vine into winter animal fodder.
Canadians got into the icewine business in 1978 when British Columbia vintner Hainle Vineyards harvested its first frozen grapes.
There are several spellings for icewine. In Canada, we spell it closed (as one word). In Germany and Austria, it's spelled eiswein. The rest of the world spells it as two words: ice wine. Canada and Germany are the world's biggest producers of this wintery treat.
Image  © beaubelle / Dollar Photo Club