Winter nights were made for sipping. And only one thing cozies up a cold night faster than a mug of hot chocolate: A boozy mug of hot chocolate. Here are our favourite additions for making your hot chocolate a little happier.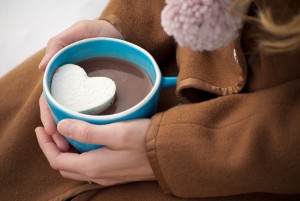 Clementine, Grand Marnier & Brown Sugar — The combination of orange and chocolate is iconic during the holidays. But why wait for a treat in your stocking when you could have orange and Grand Marnier hot chocolate now? All it takes is 1 oz of liqueur, some whipped cream topped with zest from a clementine and a velvety sprinkling of brown sugar. For an extra burst of orange flavour, rub zest on the rim of the cup.
Cinnamon, Maple & Chili — Here's a combination that'll take the chill off quickly: ¼ tsp of ground cinnamon and a tiny pinch of chili powder. The flavour infusion is instantly gratifying. Garnish with a cinnamon stick, and sweeten with a tiny drizzle of maple syrup. A perfect winter warmer.
Salt & Butterscotch Schnapps — If salted caramels are your weakness, meet your new infatuation: butterscotch schnapps hot chocolate. Simply add schnapps to taste, and top with whipped cream. For a flourish worthy of an Instagram, drizzle with a swirl of butterscotch syrup, and top with feathery flakes of kosher salt.
Tequila & Mint — Here's a soon-to-be favourite that'll warm up your winter nights. Tequila and peppermint schnapps pair perfectly in hot chocolate. Start with a tequila-to-schnapps ratio of 2:1, and adjust to your liking. Be sure to top this one with a gigantic dollop of whipped cream.
Talea Italian Amaretto Cream Liqueur — You're probably no stranger to this one, but it's a classic for good reason. The combination of real Italian Amaretto with real cream is a perfect pairing, and what it does to chocolate is not to be underestimated (We even added some to our s'more pudding shots on page 15).