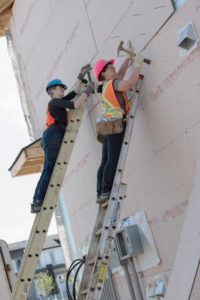 Go to any Habitat for Humanity work site, and you'll hear the sound of hammers and saws, people laughing and lives changing. This year, Habitat for Humanity Canada is celebrating Canada's 150th anniversary by completing 150 homes in just five days. Why does this matter in Alberta, one of Canada's wealthiest provinces? Because, according to Alfred Nikolai, President and CEO of Habitat for Humanity Edmonton, "affordable housing is an issue in every municipality in Alberta." In fact, approximately three million Canadians live in what's termed "precarious housing situations." Habitat Canada directly answers some of this desperate need, says Nikolai, by "changing that rent payment, which is their biggest burden in life, into their biggest blessing." How does that all begin? Take a look.
The Habitat for Humanity movement began in 1976 in Americus, Georgia. In 1984, Habitat's most iconic couple, Jimmy and Rosalynn Carter, took their first Habitat trip and have been ambassadors of the movement ever since. The first Canadian Habitat home was built in 1985, and since then, Habitat Canada has built and renovated over 2,800 homes. Applicants, however, aren't simply handed keys to a new home. They commit to repaying an interest-free loan; contribute 500 hours sweat equity and take workshops on maintenance, budgeting and home ownership. Nikolai says the Habitat concept of a hand-up, not a handout, is imperative because
"the most important people are those that need the housing … It's a commitment to themselves that they can do something about this situation and are willing to work for it."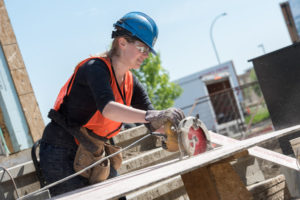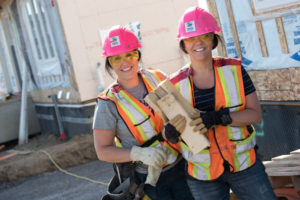 Nikolai says Habitat's mission is to "help families that are stuck in the cycle of paying most of their income to rent by providing them a safe, decent and affordable place to live." A Habitat house immediately gives families a living wage by limiting their mortgage repayments to 25 percent of household income, which helps break the cycle of poverty. And the benefits don't stop when they get the keys to their new home.
"When I talk to my families a year after they move into their house, they talk about how it's changed their children's perspective on life," says Nikolai. "There's a different attitude, a different sense of dignity, a different sense of self-esteem if you own your own home—and there's pride in your community. But most importantly, there's pride in yourself."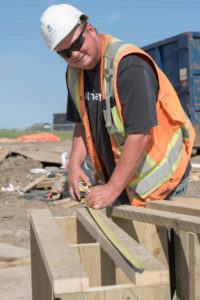 A 2015 study of Habitat Canada estimated that for every dollar invested in a home, there was a four-dollar benefit to society. As Nikolai explains, Habitat is able to create assets for the community because "we sell the homes to the families who pay a mortgage to Habitat. The payments get reinvested back into affordable housing in the community of Edmonton." For example, that means that about $500,000 will be reinvested in Edmonton over the next 10 years as a result of this year's Jimmy & Rosalynn Carter Work Project.
Don't be shy—Habitat for Humanity could use your help! Whether you want to donate cash, materials or lunch, your contribution will be hugely appreciated. And if you donate cash before August 31, Whirlpool Appliances will match your donation. Have renovation or building skills? You could volunteer your time on a building site. Or, if you're a business owner, why not pay your staff to volunteer for a day—you'll make friends, learn new skills and help a family make a dream come true. t8n
2017 Jimmy & Rosalynn Carter Work Project
This summer, Habitat Canada, along with 1000 volunteers from around the world, worked together to build 150 homes for 150 families as part of the 2017 Jimmy & Rosalynn Carter Work Project. Fifty-eight of those homes are located at Carter Place in south Millwoods. Seventeen are in Fort Saskatchewan.