An environmental business model benefits the Greener Pastures Ranching family farm.
City slickers tend to take for granted the challenges faced by their more agrarian counterparts. After all, we urban dwellers have our own challenges balancing home and work lives, so it's a relief that a trip to the local supermarket conveniently mitigates those complex juggling acts we undertake every day.
And for those who still have the notion that farm life is less complicated and more idyllic, Steve and Amber Kenyon might want to have a few words with you. The couple run a family farm they call Greener Pastures Ranching near Busby, Alberta and while it's an occupation they likely wouldn't want to trade for any other lifestyle out there, their agricultural tasks are far more numerous than getting products to market.
The big difference in how the Kenyons run their farm is their focus on ecology. These days, farmers have to take on a number of attributes from the insight of a lab scientist to the financial savviness of a corporate CEO. Throw environmental elements into the mix and the rural way of life gets a lot more complicated.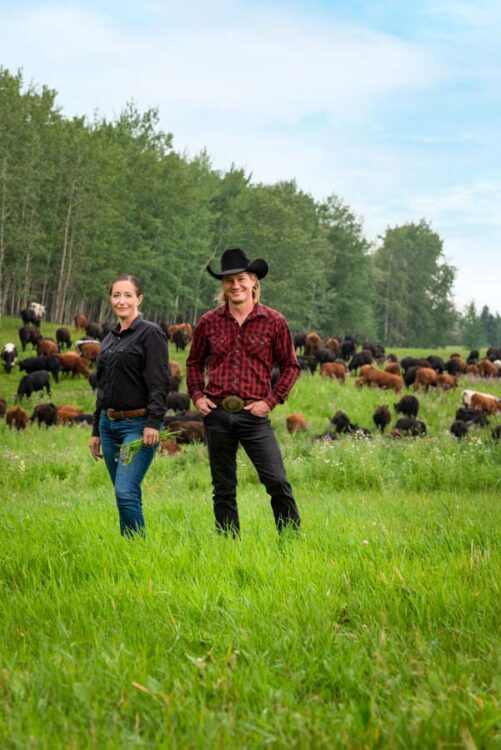 But the Kenyons believe running their operation that way makes more sense. "We believe that for a business to be financially sustainable, it also needs to be environmentally sustainable," says the couple on their website. "All of our business practices are built with this mission statement in mind."
One practice used frequently is rotational grazing management in which the farm's cattle and pig livestock are moved from pasture to pasture to improve soil content, boost grassland carbon carriage capacity, preserve wetlands and bolster animal health. They also avoid chemicals when it comes to feeding the animals and treating their immune systems. The result is a high-quality product rich in vitamins and nutrients that makes its way into supermarkets.
Despite their busy schedules, the Kenyons still have time to write articles for agricultural trade publications and conduct speaking engagements and classes listed on their social media pages. That shared knowledge has in part contributed to a growing online fan base with more than 14,000 on Facebook and 1,100 on Twitter.
It's not only a way to pass on that knowledge, but ensures that future generations can continue in a career and a lifestyle that the Kenyons enjoy. t8n
Greener ­Pastures ­Ranching ­Correspondence
PO Box 188,
Busby, AB T0G 0H0
facebook.com/GreenerPasturesRanching