Zoo visitors will find many new COVID-19 safety features, alongside all the usual fun, at the Edmonton Valley Zoo now that it has reopened.
Things look different at the zoo, which is committed to providing an enjoyable visitor experience with modifications in place to protect the health and safety of visitors, staff and animals.
The zoo is open daily from 10 a.m. – 5 p.m.
Tickets are no longer sold at the gate. Visitors, zoo members, and passholders must book their tickets online at movelearnplay.edmonton.ca. Because daily attendance is capped at 1,500 people, half of normal capacity, each ticket comes with a specific entry time, allowing visitors to pick the time they want to visit and enabling the zoo to manage crowds and ensure physical distancing. Once inside, visitors are welcome to explore the zoo at their own pace.
Paths are open to one-way traffic and are marked by signs and arrows.
Buildings where physical distancing is difficult to maintain or where there are high-touch displays will remain closed, including the Elephant House and some indoor areas of Saito Centre.
Animal talks, rides, play structures, and stroller rentals will not be available.
The Zoo-tique gift shop and zoo food vendors: Moo at the Zoo, 40 Acres and Sandwich and Sons, are open with modifications.
The zoo has made a number of changes in order to follow public health guidelines, including providing hand sanitizer at numerous locations, enhancing cleaning procedures of public spaces, and putting up signs to encourage physical distancing. Visitors are encouraged to wear masks. 
For more information, including new facility guidelines and a map showing one-way paths, please visit www.valleyzoo.ca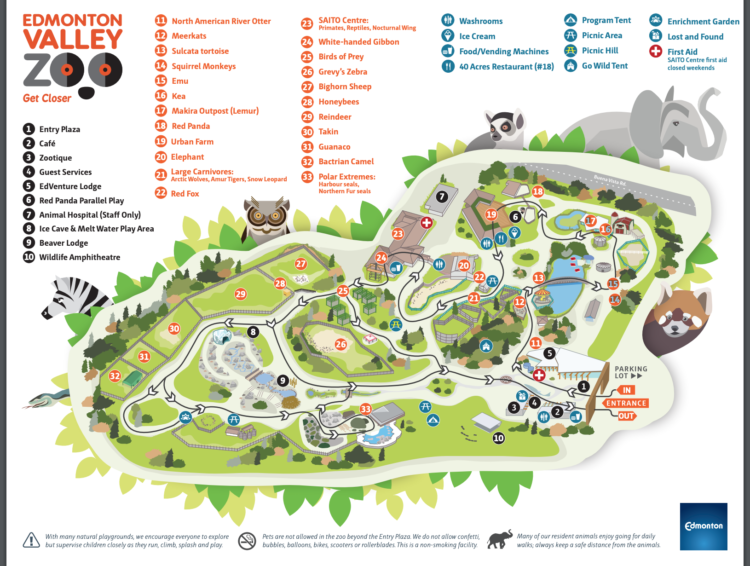 This sponsored content was produced in partnership between Valley Zoo and T8N Magazine