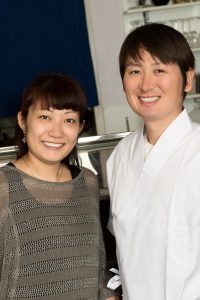 Update, April 8, 2019.
Yuzen is now closed
Yuzen at a Glance
Location: 127, 1 Hebert Road
Owners: Reeakoe and Yu Suzuki
Specialty: Traditional-style Japanese food
Interesting Fact: Yu means "relaxing atmosphere" in Japanese, and Zen means "a dish or meal." Put them together, and you get Yuzen—a relaxing meal.
When you want a fun dining experience, light and savoury fare and rich culture rolled into one delicious meal, look no further than Japanese cuisine. Rooted in rice, veggies, fresh fish and nori (seaweed), most traditional Japanese dishes are served family style—flavourful, bite-sized entrees perfect for sharing. Whether you're into sushi, sashimi, tempura, bento or tataki, Yuzen Japanese Restaurant brings Japan's best to our backyard.
Owners Reeakoe and Yu Suzuki opened Yuzen about five years ago (after purchasing the restaurant from a previous owner). The couple has four children, ages one, four, six and eight, and balances running the restaurant with raising a family. "One of the things we like most about owning our own restaurant is we get to spend more time together as a family," says Reeakoe. "Our kids love it. They get to go by the restaurant and have lunch. A lot of our regulars know them, too."
Reeakoe, who is from St. Albert, worked as a server for most of her career. Yu, who is from Japan, worked in sushi kitchens for 10 years before moving to Canada and worked as a chef in a Japanese restaurant in Edmonton for about 4 years before opening Yuzen. Today, Reeakoe manages the restaurant and looks after its front of house, and Yu is the chef and runs the kitchen. "Yu likes to have everything really perfect," says Reeakoe. "He is very skilled at what he does and has a traditional style that you don't see at many other [Japanese] restaurants."
According to Reeakoe, about 70 percent of the restaurant's customers are regulars, and it's the traditional tastes that keep them coming back. Their most popular traditional Japanese dishes are oden (a simmered vegetable dish with fish cakes that is common in Japanese family homes) and Japanese-style chicken wings. Reeakoe also encourages guests to simply ask the chef for a surprise—if the restaurant isn't too busy. "Yu has the skills to do more [than is on the menu]. If he has the time, he will make something up if a customer asks."
Yuzen has also built a strong reputation on another Japanese dish: ramen. The restaurant has become well-known around St. Albert for its weekend noodle-soup lunches. Five different flavours of ramen—salt, soy sauce, pork broth, miso or tan tan (sesame)—make the menu every Saturday from 11 a.m. to 2 p.m. Saturday ramen lunch is so in-demand, it's a good idea to get there early, "It's crazy popular," says Reeakoe. "Customers will start lining up around 10:30 or 10:45 to get in." In fact, because of the popularity of this particular dish, Reeakoe and Yu plan to extend their ramen special; in October they will introduce a new ramen menu for both lunch and dinner on Saturdays and Sundays to keep up with their customers.
Reeakoe and Yu credit the people of St. Albert for their restaurant's success and feel getting to know their regular customers is one of the best things about running a business in our city. "Our customers, St. Albert locals, love to support local businesses, and it helps out a lot," says Reeakoe. "St. Albert is full of friendly, nice, happy, good people."
Whether you're new to Japanese food or a sushi aficionado, Yuzen Japanese Restaurant's fresh, authentic Japanese creations will keep you coming back for more, and -Reeakoe and Yu's friendly, family-focused service will make you feel welcome every time. t8n
Fun Fact
Yuzen's most-ordered menu items are the tuna or beef tataki and the sashimi.
If you've never had Japanese food before, Reeakoe recommends ordering the chicken teriyaki or the tempura. The more experienced should try the grilled Hamachi (yellowtail) collars.
The average cost of a meal at Yuzen is about $15 to $20 per person.
"One of the things we like most about owning our own restaurant is we get to spend more time together as a family."
–Reeakoe Suzuki