The question has been popped, the answer is a go, and you're getting married. Congratulations! Now what? Depending on your skills, planning a wedding can be daunting at best; disastrous at worst. Enter the wedding planner: A good planner can realize your wildest wedding dreams, or turn a total lack of vision into a memorable event that reflects your personal style.
Sandra Cassios, owner and lead planner of Sandra Bettina Weddings & Events, does just that. After falling in love with planning her own wedding in 2014, the Bachelor of Commerce grad opened a wedding planning and design boutique, which specializes in a la carte services for every budget. Offerings range from hourly consulting on decor or vendors to finalizing the details a couple of months before the big day to full nuptial planning packages. A wedding planner takes the stress and distraction of organizing an event off of the happy couple so they can focus on each other and enjoy their special day. What's not to love?
What does a wedding planner do?
One of the most common misconceptions is that a wedding planner is a decorator, or just does the setup. Certainly there's that side to it, but a wedding planner is so much more. Most of our clients hire us for a month of management. This means they organize most of it themselves, and we step in two months before the wedding to help them bring it all together. Full planning is exactly that—couples come to us and say 'we want to get married,' and we execute the entire event from start to finish.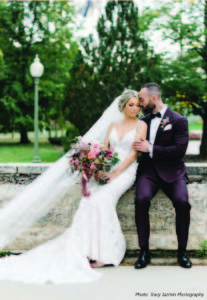 What is your top priority as a planner?
I want our clients to have the wedding that they envisioned, with the least amount of stress and the most amount of fun. I want them to feel incredibly comfortable.
How does a couple know if they need a wedding planner?
Every couple needs a wedding planner. It doesn't matter how organized you are—you're busy getting married on your wedding day, and you can't be there to make sure everything goes according to plan. Ideally, you want to show up at your wedding not knowing the backdrop fell three times, or the cake almost didn't make it.
What are the most important characteristics to look for in a planner?
You never want the experience to feel like a transaction. You want somebody who will give you all of the options and their honest opinion and expertise, but ultimately respect your choices. You also need somebody who is good at written communication and is incredibly detailed—whether it's with design or a timeline, it's those details that take your wedding from a decent event to an
absolutely great event.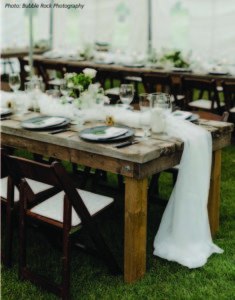 What advice would you give to a couple planning their wedding?
If you choose to go with a planner, and when dealing with other vendors, let the professionals do their jobs. And try not to lose sight of the fact that at the end of the day, the ultimate goal is to marry the person you fell in love with. t8n
Top 5 Wedding Trends
With most couples now footing their own bill, weddings are trending away from tradition and toward expression of the pair's unique style.
Personalization
Some are choosing to serve a favourite dessert instead of wedding cake, or introducing activities such as hiring a dance instructor to teach guests their favourite style.
Small and Casual
More couples are celebrating with close friends and family in an intimate ceremony where candles, farm tables, and a laid-back atmosphere are on the menu.

Mix and Match
We're seeing eclectic variation in decor elements that would traditionally be matching, such as different centerpieces on tables, or white chairs in a variety of shapes.
Hand Lettering
Rather than using a typical paper seating chart, couples are handwriting guests' names onto clear acrylic at place settings. Ask your wedding planner about hiring a professional hand-letterer for fonts with flair.
Dance Floor Wraps
A new and glamorous way to liven up the dance floor is to use vinyl floor wraps. These can be designed however you like, and can turn your venue into a modern ballroom.
Top 5 Don't Forgets
When planning a party for 300 guests on average, some things are bound to slip through the cracks. Here are a few often forgotten tasks to keep your eye on.
Include vendors in your guest count.
Photographers, wedding coordinators, and the DJ all need to eat, too. Don't forget to budget for their meals and plan for decor at their tables.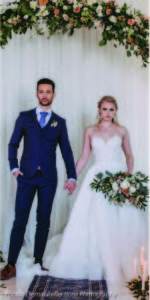 Find out when the decorneeds to come down.
Vendors often charge additional fees for picking up items late at night. Ask the venue about your teardown options beforehand so you can budget accordingly.
Have a 'bad weather' contingency plan.
Bad weather can ruin months of planning when you're not prepared. If you're going with an outdoor wedding, have a covered backup location (or a few hundred umbrellas) ready to go in case of rain.
Stay hydrated.
Bring a water bottle wherever you go. A headache is the last wedding gift anyone needs.
Bring a change of shoes.
Even the most comfortable heels will have feet aching after a full day. Bring an extra (and reliably comfortable) pair for the late-night part of the reception, so you can focus on your dance moves, not your sore feet.