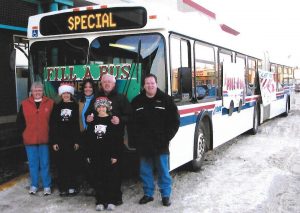 The St. Albert Kinettes: it's a name we know quite well here in St. Albert. Since 1967, Kinette members have been volunteering their time in order to help the community—everything from running concession stands at the Rainmaker Rodeo to raising funds for the Canadian Cystic Fibrosis Foundation. However, the Kinettes largest community project is the Christmas Hamper Campaign. Now in its 50th year, this campaign touches more people every year, and it's getting tougher every year to make sure everyone has a Merry Christmas.
Last year, the Kinettes Christmas Hamper Campaign "…was high in demand, but low in donations," according to 22-year Kinette member Julie Demott. It wasn't because people were Scroogish, but more to the fact the economy made many people tighten their financial belts. In years past, a Christmas Hamper given to a nominated family had toys for the kids and enough food to last a month. Lately, with a lot of people watching their spending, there have been only enough food donations to help a family for about three weeks. Approximately 280 St. Albert families received Christmas Hampers last year, and the Kinettes spent about $17,000 on toys alone. This year, the Kinettes are expecting 350 to 400 families in need. Each hamper is customized to fit the needs of each family, taking into consideration allergies, dietary restrictions and toy preferences.
Helping reach their goal is St. Albert Transit. Fifteen years ago, some transit drivers had a unique idea to raise food, toy and monetary donations to help the Kinettes fill their hampers: it's called Fill-A-Bus. Transit drivers witness everyday people who don't have as much as others, and some of these drivers felt the need to help. So St. Albert Transit, Kinette and Kinsmen members, local sports teams, St. Albert businesses and St. Albert residents give their time, money and compassion to make sure people aren't wanting at Christmas. When Fill-A-Bus first started in 2002, two buses—one parked at Canadian Tire (the head store), and the other divided its time between Wal-Mart and Superstore—were filled with food, toys and money. The next year, another bus was added to the convoy. Since its inception, the Fill-A-Bus Campaign has filled over 80 bendable and 8 regular buses with food and toys, monetary donations have come to $50,000 and approximately 200 families a year have received a hamper. However, Jennifer Warford, a Kinette member who helps organize the Fill-A-Bus Campaign, says last year the buses weren't as full as they have been in years previous. Tough financial times are the main reason. But in spite of that, people are giving as much as they can and many donators have been previous recipients of Christmas Hampers.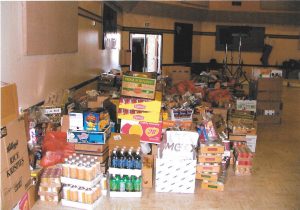 Why do volunteers put so much effort into the Christmas Hamper and Fill-A-Bus Campaigns? "It's a wonderful way to help the community" Jennifer smiles. "My husband is a transit driver, and my whole family help out every year including my daughter who last year bought a Frozen toy saying it was to be given to a girl who loved the movie just as much as she did." And it is definitely a family affair. Most Kinette and Kinsmen members are members because of their parents. The whole family gets involved, and Kinette member Tina Shank says, "Getting children involved in helping shows them helping a community is one of the best ways to be a part of the community."
So, if you feel like you can't do much, that one person can't make much difference, the Kinettes will tell you that every little bit helps. Especially in these tough economic times, the Christmas Hamper Campaign will be short on something. You may not think that one can of soup or a box of pasta can go far, but it's at least one meal for one family who otherwise may not have had one.
WHAT TO GIVE
Non-perishable food items are best: dried pasta, canned goods (tuna, vegetables, soup, fruit), dry hot and cold cereal, pasta sauces (including dried seasonings and mixes), rice, baby formula, peanut butter to name a few.
Unwrapped toys. In past years, the Kinettes saw a desperate need for toys and games to appeal to pre-teen to teens.
Cash, cheque or gift cards are also accepted. If donating by cheque, please make it payable to St. Albert Kinettes. You can mail the cheque to: PO Box 65064, Mission Hill Plaza, St. Albert, AB, T8N 5Y3. Also, you can email the Kinettes (stalbertkinettes@gmail.com) and a member will be happy to pick up the donation.
WHERE TO GIVE
Some of the red box locations are: Canadian Tire, Servus Place, St. Albert Place, St. Albert Centre, Costco, both Safeways, Sobey's, Winners, Tourist Information Office, Fire Hall #3. The Kinettes have their official Christmas Hamper Campaign kick-off on November 19th from 11 am to 1 pm, and a silent auction at The Beer Hunter on November 19th.
Fill-A-Bus is on December 10th from 9 am to 3 pm at Canadian Tire, both Safeways, Sobey's, Costco, Superstore.
There will also be a bus at the Snowflake Festival on November 25th. At the Indie Handmade Market, the St. Albert Kinettes will be handling the coat check, where the donations will go wholly to the Christmas Hamper Campaign.