The site, formerly a sewage lagoon, is now a recreation and education mecca, thanks to a 10-year, $30-million revitalization project. What was once an eyesore and a source of pollution is now home to a 30-hectare recreation park, with soccer and rugby fields, an artificial-turf football field, a regulation BMX track, clubhouses, rodeo grounds, a boat dock, and a 92-stall RV campground. Additionally, the restored five-acre Riel Marsh provides a habitat for migratory and nesting birds, waterfowl, and beaver and muskrats.
1950s and 1960s
The 1950s saw the beginning of St. Albert's transformation from a sleepy village on the Sturgeon to a major community in the Edmonton region. With the population explosion—from 804 residents in 1946 to 4,059 in 1961—came an increased need for sewage and water facilities. For this, St. Albert turned to its river, the Sturgeon, and in 1954 it built a system of sewage lagoons in the area of Riel Park. While the lagoons fulfilled a municipal need by treating sewage, every spring they would drain into the river, upstream of the town.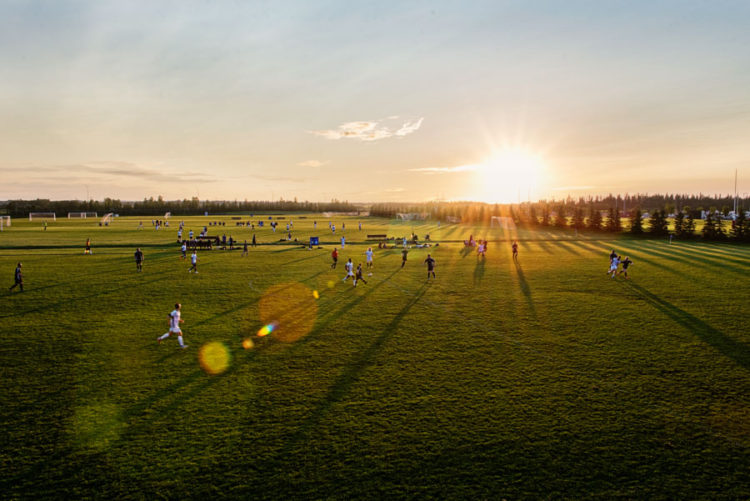 1970s and 1980s
The City began phasing out the lagoons in the 1970s, and the idea of using the area for recreation began to take hold. While two of the three lagoons were decommissioned and initially turned into municipal landfills, later in the decade they were covered over for use as a sports and rodeo grounds. The third and most southerly lagoon in the system meanwhile became a stormwater pond. Throughout the 1980s the pond found use as a practice site for canoers and kayakers while also providing irrigation for nearby soccer fields. Waterfowl began using the pond, as it provided better shelter than the nearby lake.
1990s
Increasingly, the city recognized the recreation potential of the lands along Big Lake and the Sturgeon River and began to plan accordingly. The reclaimed land on the south side of the river near the mouth of Big Lake was already the site of the Kinsmen Rodeo Grounds, as well as facilities for local soccer and rugby clubs, so it made sense to run with this theme. From the beginning, the city developed the park in partnership with local clubs as a recreation and tournament venue, for use by residents and visitors alike. The 1991 Red Willow Park Master Plan called for redeveloping the existing features and facilities, including the pond, and adding new ones, such as a campground, picnic area, and pedestrian trails.
2000s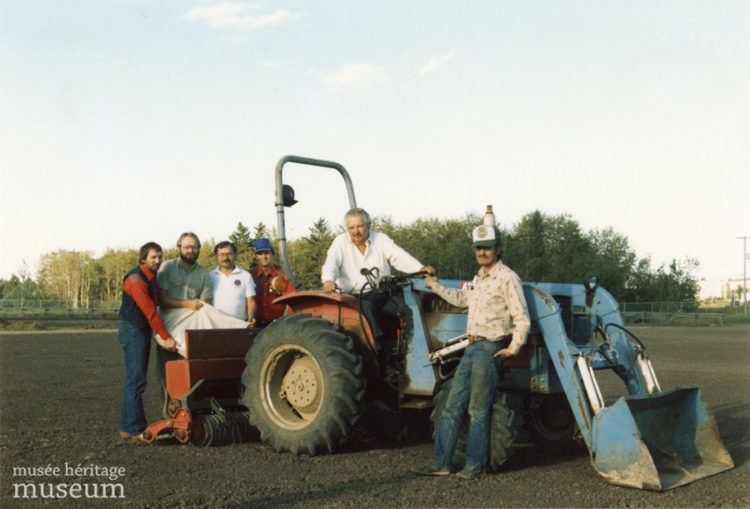 By the following decade, there was a need to update plans for Riel Recreation Park. More recreation space was needed, and the park was to be intersected by the future Ray Gibbon Drive, which would displace some of its facilities. After finding high levels of E. coli and other dangerous bacteria in Riel pond, the City in 2005 embarked on a $30-million, 10-year project to revitalize the area, including the restoration of Riel Marsh, the adjacent wetland.
Now
Decades of development have left St. Albert with an impressive legacy in Riel Recreation Park. As a result of the Riel Park project, the City was nominated by the Alberta Emerald Foundation in 2018 in recognition of its environmental achievements. Today, the park sets an example for communities across Alberta and beyond of how will and action can beautify even the ugliest of sites, while providing recreation and exercise to residents. t8n