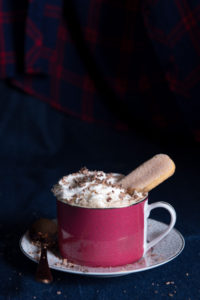 Coffee meets rum, meets mascarpone cheese… Hello, new friend.
2 tbsp mascarpone cheese, softened
1/4 cup whipped cream
1 1/4 cups chocolate milk
1 tsp instant coffee powder
2 tbsp Amaretto
1 tbsp dark rum
Chocolate shavings, to garnish
Ladyfinger cookie, to garnish
In a small bowl, whisk together the whipped cream and mascarpone cheese until smooth.
Place the chocolate milk and instant coffee powder in a small pot, and bring it to almost a simmer (not a boil) over medium heat. Remove the pot from the heat, and add the Amaretto and rum. Pour into a cup, and top with a generous dollop of the whipped-cream mixture. Garnish with chocolate shavings and
a ladyfinger cookie.