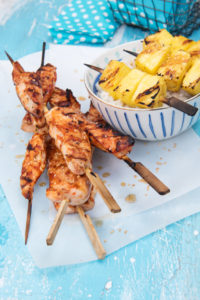 This is a great sweet, tangy recipe. Perfect for a warm night of grilling.
4 boneless, skinless chicken breasts, cut into 1" chunks
½ tsp. kosher salt
¼ tsp. pepper
1 tbsp. vegetable oil
⅓ c. tomato purée
3 tbsp. rice vinegar
1 ½ tbsp. brown sugar
2 tbsp. soy sauce
1 tsp. sesame oil
¼ c. julienned green onions
1 red pepper chopped to 1 ½" chunks
½ pineapple, also chopped into 1 ½" chunks
In a saucepan, warm the vegetable oil over medium heat. Stir in tomato purée, rice vinegar, brown sugar, soy sauce, sesame oil. Bring this mixture to a boil and then reduce to a simmer for 8-10 minutes until the sauce is visibly thicker.
Season the chicken breasts with vegetable oil, salt and pepper. Also season with chopped pepper and pineapple with salt. Skewer all three items in an alternating pattern, chicken, pepper, pineapple. Leave a space in between each chunk.
Place skewers on a greased grill over medium heat. Brush half of the sweet and sour sauce over the skewers, grill, turn over once. Brush the other side with the sauce. Serve with rice or inside a yummy pita pocket!
Tip: Remember when grilling meat, the protein will easily pull away from the grill when it is cooked. If the meat is sticking,
it is probably not done cooking.